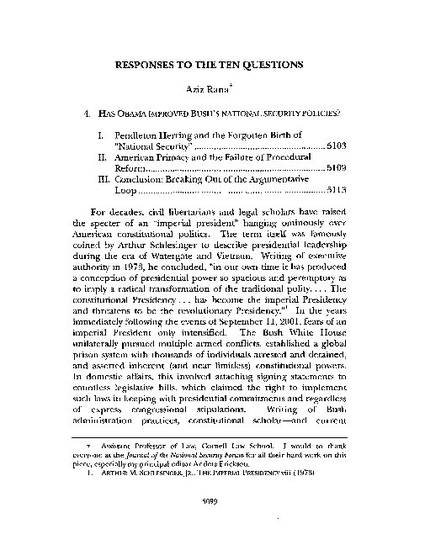 Article
Responses to the Ten Questions
Cornell Law Faculty Publications
Publication Date
1-1-2011
Abstract
This essay responds to a question posed by the William Mitchell Law Review for its annual national security issue: Has Obama Improved Bush's National Security Policies? I maintain that Obama Administration practices have been marked by striking continuities with those of the previous Administration. I then attempt to explain these continuities by discussing how American policymakers across the political spectrum share basic assumptions about the concept of national security and the need for an aggressive and interventionist foreign policy.
Publication Citation
Published in: William Mitchell Law Review, vol. 37, no. 5 (2011).
Citation Information
Aziz Rana. "Responses to the Ten Questions" (2011)
Available at: http://0-works.bepress.com.library.simmons.edu/aziz_rana/5/