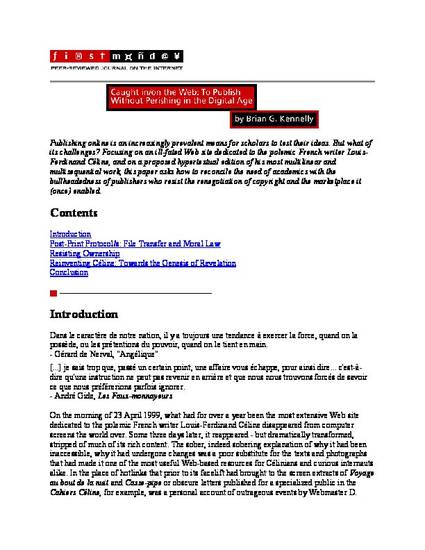 Article
Caught in/On the Web: To Publish Without Perishing in the Digital Age
First Monday
Publication Date
8-1-2000
Abstract
Publishing online is an increasingly prevalent means for scholars to test their ideas. But what of its challenges? Focusing on an ill-fated Web site dedicated to the polemic French writer Louis-Ferdinand Céline, and on a proposed hypertextual edition of his most multilinear and multisequential work, this paper asks how to reconcile the need of academics with the bullheadedness of publishers who resist the renegotiation of copyright and the marketplace it (once) enabled.
Citation Information
Brian G. Kennelly. "Caught in/On the Web: To Publish Without Perishing in the Digital Age"
First Monday
Vol. 5 Iss. 8 (2000)
Available at: http://0-works.bepress.com.library.simmons.edu/bkennell/13/