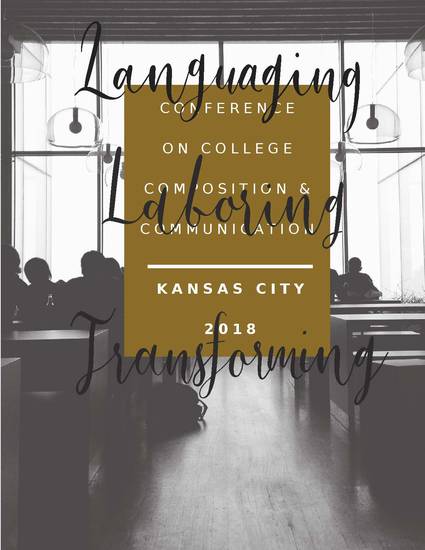 Presentation
Hand annotation and reliability: Corpus Linguistic Approaches to Teaching and Studying Writing
Conference on Collegel Composition and Communication (2018)
Abstract
If I say "He's an eligible BLANK," you're likely to complete the sentence with "bachelor." The fact that "eligible" and "bachelor" often appear together--in corpus-linguistic terms, they are collocated--tells us something about the meaning of "bachelor" that is not in its dictionary definition and related social values (e.g., gendered ones, in this example). This workshop, sponsored by the Linguistics, Language, and Writing (LLW) Standing Group, used hands-on activities to introduce theories and methods of corpus-linguistic analysis for various purposes, genres, and sub-fields within writing studies. Facilitators guided attendees through examples of the use of corpus methods in FYC, writing center research, and professional and science writing.
Larson's presentation introduced options for annotating a corpus, using as an example a publicly available corpus of texts written by legal writing students. Annotating a corpus allows the researcher to "bracket" portions of artifacts, like complex legal citations, to exclude them from analysis; or to code portions to allow comparison, for example, between different common sections of a genre, like the fact section of a legal brief and its argument. Because annotation is labor-intensive, it often requires the work of multiple humans, which raises concerns about inter-rater reliability. Attendees engaged in an activity where they code and compare their codes on samples of texts from the corpus.
Keywords
corpus linguistics,
legal texts,
research methods
Publication Date
March 14, 2018
Citation Information
Brian Larson. "Hand annotation and reliability: Corpus Linguistic Approaches to Teaching and Studying Writing"
Conference on Collegel Composition and Communication
(2018)
Available at: http://0-works.bepress.com.library.simmons.edu/brian-larson/39/