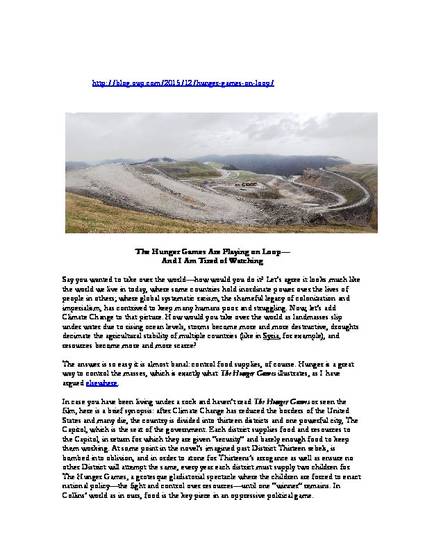 Other
The Hunger Games are playing on loop— And I am tired of watching
OUPblog
Document Type
Creative Writing
Publication Version
Published Version
Publication Date
12-5-2015
Abstract
Say you wanted to take over the world—how would you do it? Let's agree it looks much like the world we live in today, where some countries hold inordinate power over the lives of people in others; where global systematic racism, the shameful legacy of colonization and imperialism, has contrived to keep many humans poor and struggling. Now, let's add climate change to that picture. How would you take over the world as landmasses slip underwater due to rising ocean levels, storms become more and more destructive, droughts decimate the agricultural stability of multiple countries (like in Syria, for example), and resources become more and more scarce?
Copyright Owner
Oxford University Press
File Format
application/pdf
Citation Information
Brianna R. Burke. "The Hunger Games are playing on loop— And I am tired of watching"
OUPblog
Vol. 12 (2015)
Available at: http://0-works.bepress.com.library.simmons.edu/brianna_burke/9/