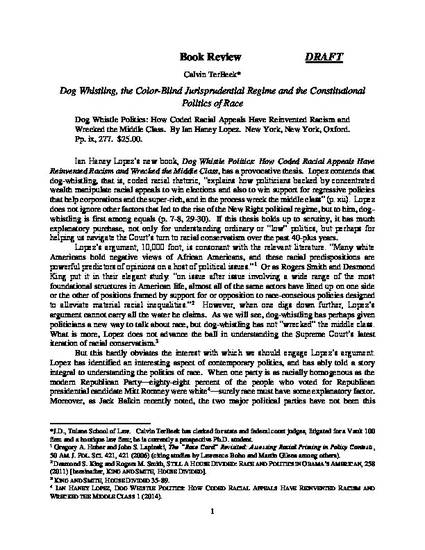 Article
Dog Whistling, the Color-Blind Jurisprudential Regime and the Constitutional Politics of Race
Constitutional Commentary (2015)
Abstract
Ian Haney Lopez's new book, "Dog Whistle Politics: How Coded Racial Appeals Have Reinvented Racism and Wrecked the Middle Class", has a provocative thesis. Lopez contends that dog-whistling, that is, coded racial rhetoric, "explains how politicians backed by concentrated wealth manipulate racial appeals to win elections and also to win support for regressive policies that help corporations and the super-rich, and in the process wreck the middle class." Though this may seem plausible enough, the thesis cannot stand up to scrutiny; the relevant political science literature provides no support for this. What is more, Lopez's treatment of the Supreme Court's role in the story of the rise of the New Right is discursive. This review, then, identifies and describes the contours of what I call the "color-blind jurisprudential regime," a jurisprudental regime that has grown thick starting with the appointment of the "Nixon Four" and continuing through to today. In sum, while Lopez is surely right to focus on the politics of race, both high and low, this review contends that a new, more empiricized approach is needed for us to truly understand how race and the New Right are connected.
Publication Date
Winter January 1, 2015
Citation Information
Calvin J TerBeek. "Dog Whistling, the Color-Blind Jurisprudential Regime and the Constitutional Politics of Race"
Constitutional Commentary
(2015)
Available at: http://0-works.bepress.com.library.simmons.edu/calvin_terbeek/2/