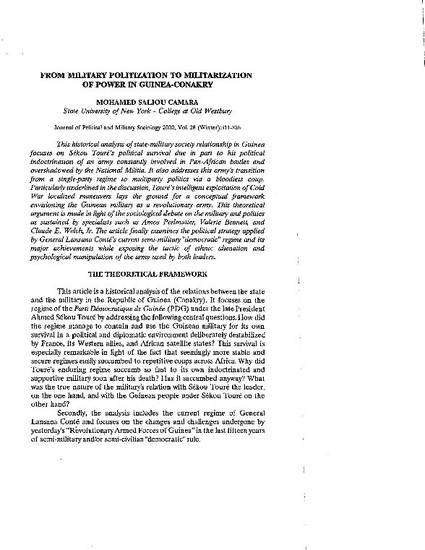 Article
From Military Politization to Militarization of Power in Guinea-Conakry
Journal of Political and Military Sociology (2000)
Abstract
This historical analysis of state-military society relationship in Guinea focuses on Sékou Touré's political survival due in part to his political indoctrination of an army constantly involved in Pan-African battles and overshadowed by the National Militia. It also addresses this army's transition from a single-party regime to multiparty politics via a bloodless coup. Particularly underlined in the discussion, Touré's intelligent exploitation of Cold War localized manueuvers lays the ground for a conceptual framework envisioning the Guinean military as a revolutionary army. This theoretical argument is made in light of the sociological debate on the military and politics as sustained by specialists such as Amos Perlmutter, Valerie Bennett, and Claude E. Welch, Jr. The article finally examines the political strategy applied by General Lansana Conté's current semi-military "democratic" regime and its major achievements while exposing the tactic of ethnic alienation and psychological manipulation by the army used by both leaders.
Publication Date
Winter 2000
Citation Information
Mohamed S. Camara. "From Military Politization to Militarization of Power in Guinea-Conakry"
Journal of Political and Military Sociology
Vol. 28 (2000)
Available at: http://0-works.bepress.com.library.simmons.edu/camara_mohamed/22/