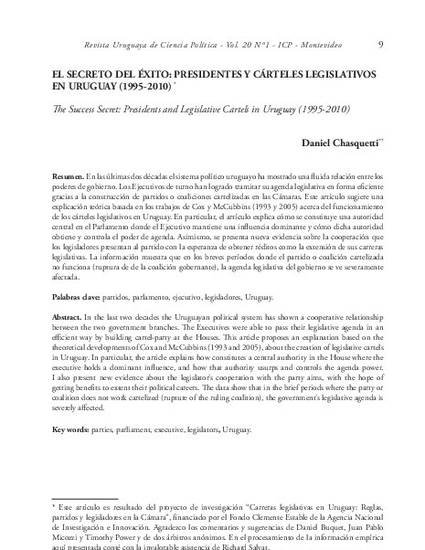 Article
El secreto del éxito: Presidentes y Cártles Legislativos en Uruguay
Revista Uruguaya de Ciencia Política (2011)
Abstract
In the last two decades the Uruguayan political system has shown a cooperative relationship between the two government branches. he Executives were able to pass their legislative agenda in an eicient way by building cartel-party at the Houses. his article proposes an explanation based on the theoretical developments of Cox and McCubbins (1993 and 2005), about the creation of legislative cartels in Uruguay. In particular, the article explains how constitutes a central authority in the House where the executive holds a dominant inluence, and how that authority usurps and controls the agenda power. I also present new evidence about the legislator's cooperation with the party aims, with the hope of getting beneits to extent their political careers. he data show that in the brief periods where the party or coalition does not work cartelized (rupture of the ruling coalition), the government's legislative agenda is severely afected.
Publication Date
December, 2011
Citation Information
Daniel Chasquetti. "El secreto del éxito: Presidentes y Cártles Legislativos en Uruguay"
Revista Uruguaya de Ciencia Política
Vol. 20 Iss. 1 (2011)
Available at: http://0-works.bepress.com.library.simmons.edu/chasquetti/19/