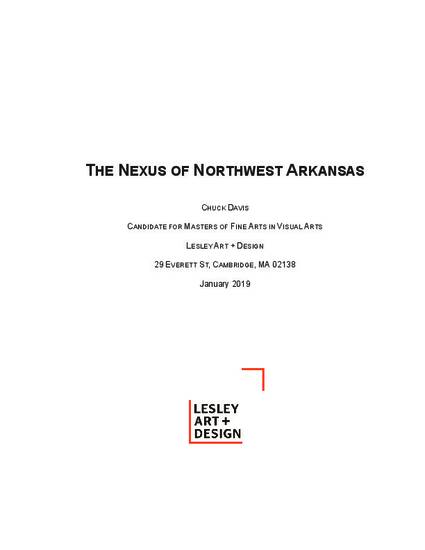 Thesis
11_18_2018 The Nexus of Northwest Arkansas - Thesis by Chuck Davis.pdf
(2018)
Abstract
My photographs are about power and place. Situated by context to a bygone era, Northwest Arkansas is now the illogical home of the world's largest company.  Attendant economic and sociological forces are changing this rural area rapidly, as I examine effects upon the region and its residents – historical, contemporary, and transient.
With a narrative, neo-journalistic voice, I seek to convey new complexities to the state of Arkansas and specifically its northwest region. Postcards and placards react and reverse the popular shibboleth of a slow, rural sociotype – the Southern man, woman and family – which is at odds with contemporaneous definitions of the people to this state. I call this work and its observations the Nexus of Northwest Arkansas.
This thesis describes the formation of my message, its critical theories and major influences. Above all, the work, and the writing about this work, seeks to reframe popular beliefs, stereotypes, media-driven characterizations.
Keywords
Arkansas,
Walmart,
Photography,
Documentary,
Narrative in Photography,
Rural Sociotype,
Al Capp,
Li'l Abner,
Dogpatch,
Arkansas Traveler,
Gentrification
Publication Date
Winter November 18, 2018
Field of study
Visual Arts
Advisor
Oliver Wasow, Jan Avgikos
Citation Information
Chuck Davis. "11_18_2018 The Nexus of Northwest Arkansas - Thesis by Chuck Davis.pdf" (2018)
Available at: http://0-works.bepress.com.library.simmons.edu/chuckdavisphoto/1/
Creative Commons license
This work is licensed under a Creative Commons CC_BY-NC-SA International License.