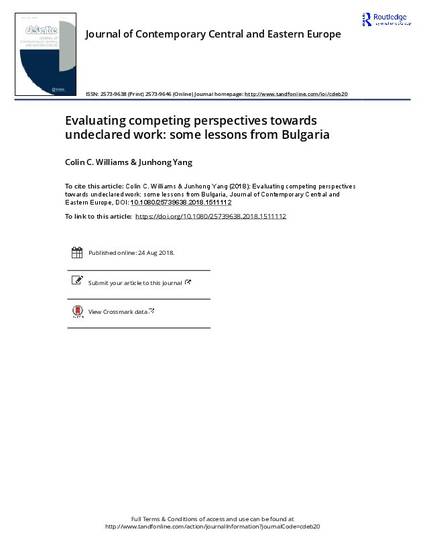 Article
Evaluating competing perspectives towards undeclared work: some lessons from Bulgaria
Journal of Contemporary Central and Eastern Europe (2028)
Abstract
When explaining and tackling the undeclared economy in Central
and Eastern Europe, participants have been conventionally viewed
as rational economic actors. They engage in undeclared work
when the benefits outweigh the costs. Participation is thus
deterred by increasing the sanctions and/or probability of being
caught. Recently, however, an alternative social actor approach
has emerged which views participants as engaging in undeclared
work when their norms, values and beliefs (i.e. citizen morale) do
not align with laws and regulations (i.e. state morale). Here, therefore,
initiatives to develop greater symmetry between civic and
state morale are pursued. To evaluate the validity and effectiveness
of these competing explanations and policy approaches,
2,004 face-to-face interviews conducted in Bulgaria in late 2015
are reported. Logit marginal effects regression analysis reveals no
association between participation in undeclared work and the
perceived level of penalties and risk of detection, but a strong
significant association with the level of asymmetry between citizen
and state morale; the greater the asymmetry, the higher is the
likelihood of participation in undeclared work. The paper concludes
by discussing the implications for explaining and tackling
undeclared work.
Keywords
informal economy,
informal sector,
economics,
tax evasion,
tax compliance,
labour law,
social sciences,
sociology,
development economics,
development studies,
economic sociology,
business ethics,
business,
taxation
Publication Date
August 12, 2028
Citation Information
Colin C Williams. "Evaluating competing perspectives towards undeclared work: some lessons from Bulgaria"
Journal of Contemporary Central and Eastern Europe
(2028)
Available at: http://0-works.bepress.com.library.simmons.edu/colin_williams/95/