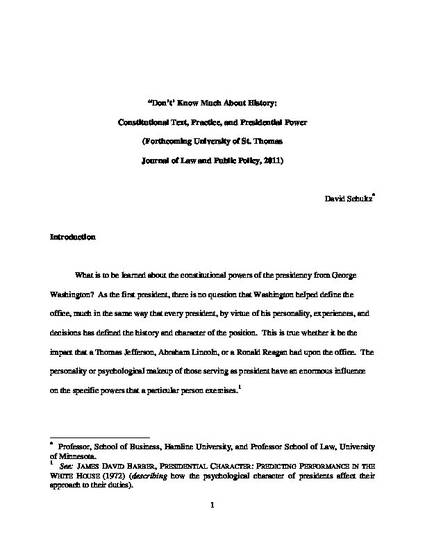 Article
Don't' Know Much About History: Constitutional Text, Practice, and Presidential Power
University of St. Thomas Journal of Law and Public Policy (2011)
Abstract
Assertions of presidential supremacy and power in affairs often invoke history, including events during the administration of George Washington, to defend their assertions. This article raises some questions regarding what we can learn from history for constitutional argument. It concedes generally that historical facts can support or buttress constitution argument, but more specifically it contends that acts undertaken by George Washington are problematic assertions for presidential power, especially those that assert "supremacist" or broad if not exclusive claims for presidential foreign policy authority. To do that, this article first describes how history is employed as constitutional argument for presidential power. Then the piece critiques this type of argumentation, claiming that generalizations from practices, policies, or acts of discretion during the Washington presidency being used as constitutional argument are problematic on several grounds. The overall thesis here is that while history may be an appropriate tool for making or sustaining constitutional arguments, what is needed is some rule of translation explaining why, when, and how the past is relevant to defending presidential power.
Keywords
presidential power,
George Washington,
foreign policy,
commander-in-chief,
John Yoo,
Alexander Hamilton,
Constitution,
Article II,
Sutherland,
Youngstown,
Sawyer,
Curtiss-Wright
Citation Information
David A Schultz. "Don't' Know Much About History: Constitutional Text, Practice, and Presidential Power"
University of St. Thomas Journal of Law and Public Policy
(2011)
Available at: http://0-works.bepress.com.library.simmons.edu/david_schultz/15/