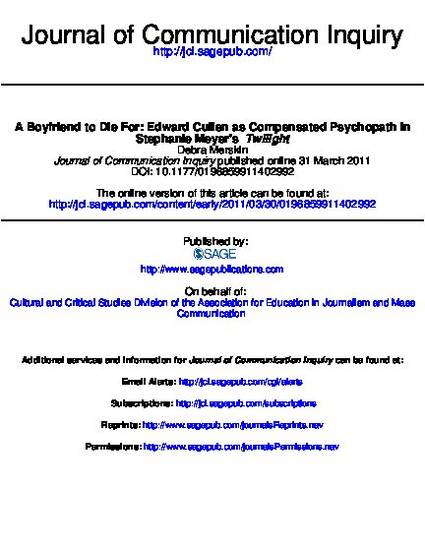 Article
A boyfriend to die for: Edward Cullen as compensated psychopath in Stephanie Meyer's Twilight
Journal of Communication Inquiry (2010)
Abstract
This article is an analysis of the teen-targeted vampire novel Twilight. The series and related merchandise have been a runaway financial success. Illustrative quotes from Twilight are presented according to Guggenbühl-Craig's concept of the "compensated psychopath" (CP)—an individual who approaches the psychological extreme of psychopathy but is able to pass for functional in society. The author argues the lead male character Edward Cullen is a CP and that the representation is problematic. The book's main female character, Bella Swan, becomes completely dependent on Edward, desires him in part because he seems unattainable, and is willing to die and live a life of predation in order to be with him. The largely uncriticized idealization of Edward as top boyfriend material flies under the radar of contemporary concern for girls' psychic and physical well-being.
Citation Information
Debra Merskin. "A boyfriend to die for: Edward Cullen as compensated psychopath in Stephanie Meyer's Twilight"
Journal of Communication Inquiry
Vol. 35 Iss. 2 (2010)
Available at: http://0-works.bepress.com.library.simmons.edu/debra_merskin/6/