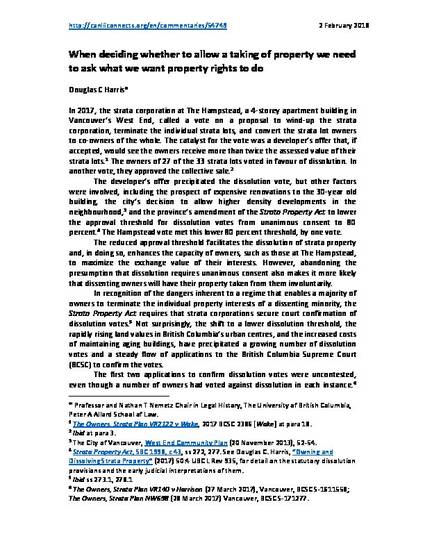 Article
When Deciding Whether to Allow a Taking of Property We Need to Ask What We Want Property Rights to Do
Faculty Publications
Document Type
Response or Comment
Publication Date
1-1-2018
Subjects
Property,
Strata Property,
Condominium,
Land,
Takings,
Cities,
Vancouver
Abstract
In recognition of the dangers inherent to a regime that enables a majority of owners to terminate the individual property interests of a dissenting minority, the Strata Property Act requires that strata corporations secure court confirmation of dissolution votes. Not surprisingly, the shift to a lower dissolution threshold, the rapidly rising land values in British Columbia's urban centres, and the increased costs of maintaining aging buildings, have precipitated a growing number of dissolution votes and a steady flow of applications to the British Columbia Supreme Court (BCSC) to confirm the votes.
Citation Information
Douglas C Harris, "When deciding whether to allow a taking of property we need to ask what we want property rights to do" (2 February 2018), online (blog):
CanLII Connects
<
https://canliiconnects.org/en/commentaries/54749
>.