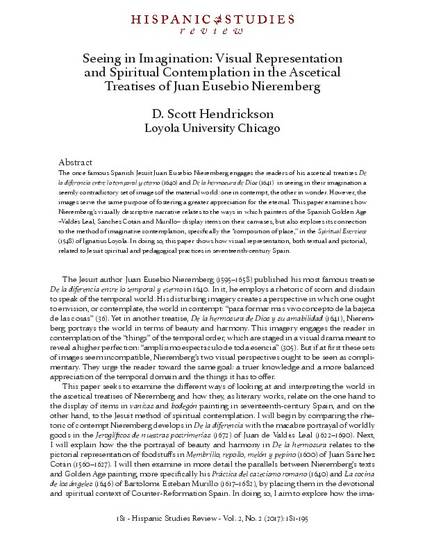 Article
Seeing in Imagination: Visual Representation and Spiritual Contemplation in the Ascetical Treatises of Juan Eusebio Nieremberg
Hispanic Studies Review
Publication Date
1-1-2017
Abstract
The once famous Spanish Jesuit Juan Eusebio Nieremberg engages the readers of his ascetical treatises De la diferencia entre lo temporal y eterno (1640) and De la hermosura de Dios (1641) in seeing in their imagination a seemly contradictory set of images of the material world: one in contempt, the other in wonder. However, the images serve the same purpose of fostering a greater appreciation for the eternal. This paper examines how Nieremberg's visually descriptive narrative relates to the ways in which painters of the Spanish Golden Age –Valdés Leal, Sánchez Cotán and Murillo– display items on their canvases, but also explores its connection to the method of imaginative contemplation, specifically the "composition of place," in the Spiritual Exercises (1548) of Ignatius Loyola. In doing so, this paper shows how visual representation, both textual and pictorial, related to Jesuit spiritual and pedagogical practices in seventeenth-century Spain.
Creative Commons License
Creative Commons Attribution-Noncommercial-No Derivative Works 3.0
Copyright Statement
© D. Scott Hendrickson 2017
Citation Information
D. Scott Hendrickson. "Seeing in Imagination: Visual Representation and Spiritual Contemplation in the Ascetical Treatises of Juan Eusebio Nieremberg"
Hispanic Studies Review
Vol. 2 Iss. 2 (2017)
Available at: http://0-works.bepress.com.library.simmons.edu/dscott-hendrickson/12/