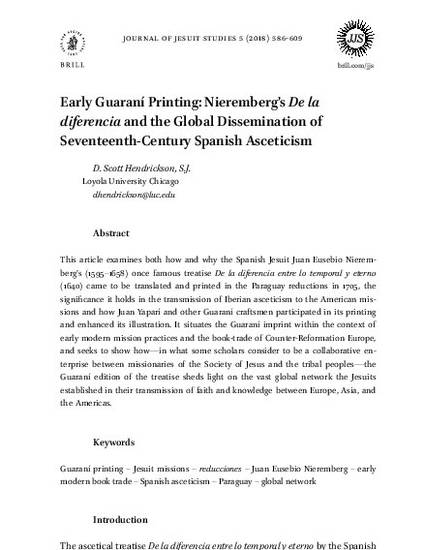 Article
Early Guaraní Printing: Nieremberg's De la diferencia and the Global Dissemination of Seventeenth-Century Spanish Asceticism
Journal of Jesuit Studies
Publication Date
11-15-2018
Abstract
This article examines both how and why the Spanish Jesuit Juan Eusebio Nieremberg's (1595–1658) once famous treatise De la diferencia entre lo temporal y eterno (1640) came to be translated and printed in the Paraguay reductions in 1705, the significance it holds in the transmission of Iberian asceticism to the American missions and how Juan Yaparí and other Guaraní craftsmen participated in its printing and enhanced its illustration. It situates the Guaraní imprint within the context of early modern mission practices and the book-trade of Counter-Reformation Europe, and seeks to show how—in what some scholars consider to be a collaborative enterprise between missionaries of the Society of Jesus and the tribal peoples—the Guaraní edition of the treatise sheds light on the vast global network the Jesuits established in their transmission of faith and knowledge between Europe, Asia, and the Americas.
Creative Commons License
Creative Commons Attribution-Noncommercial-No Derivative Works 3.0
Copyright Statement
© Brill 2018
Citation Information
D. Scott Hendrickson. "Early Guaraní Printing: Nieremberg's De la diferencia and the Global Dissemination of Seventeenth-Century Spanish Asceticism"
Journal of Jesuit Studies
Vol. 5 Iss. 4 (2018)
Available at: http://0-works.bepress.com.library.simmons.edu/dscott-hendrickson/17/