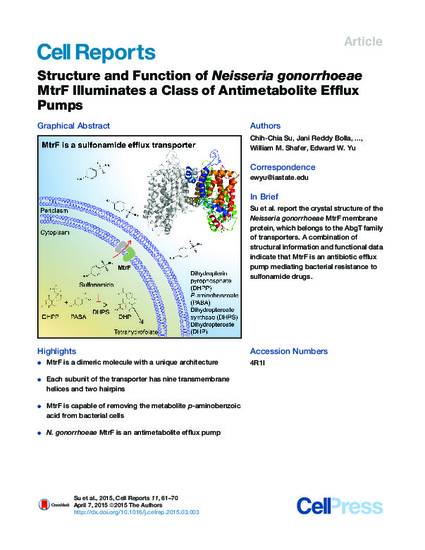 Article
Crystal structure of the Alcanivorax borkumensis YdaH transporter reveals an unusual topology
Nature Communications
Publication Version
Published Version
Publication Date
1-1-2015
Abstract
The potential of the folic acid biosynthesis pathway as a target for the development of antibiotics has been clinically validated. However, many pathogens have developed resistance to these antibiotics, prompting a re-evaluation of potential drug targets within the pathway. The ydaH gene of Alcanivorax borkumensis encodes an integral membrane protein of the AbgT family of transporters for which no structural information was available. Here we report the crystal structure of A. borkumensis YdaH, revealing a dimeric molecule with an architecture distinct from other families of transporters. YdaH is a bowl-shaped dimer with a solvent-filled basin extending from the cytoplasm to halfway across the membrane bilayer. Each subunit of the transporter contains nine transmembrane helices and two hairpins that suggest a plausible pathway for substrate transport. Further analyses also suggest that YdaH could act as an antibiotic efflux pump and mediate bacterial resistance to sulfonamide antimetabolite drugs.
Rights
This is an open access article distributed under the Creative Commons Attribution License, which permits unrestricted use, distribution, and reproduction in any medium, provided the original work is properly cited.
Copyright Owner
Bolla et al.
File Format
application/pdf
Citation Information
Jani Reddy Bolla, Chih-Chia Su, Jared A. Delmar, Pattathil Radhakrishnan, et al.. "Crystal structure of the Alcanivorax borkumensis YdaH transporter reveals an unusual topology"
Nature Communications
Vol. 6 (2015) p. 60 - 71
Available at: http://0-works.bepress.com.library.simmons.edu/edward_yu/12/