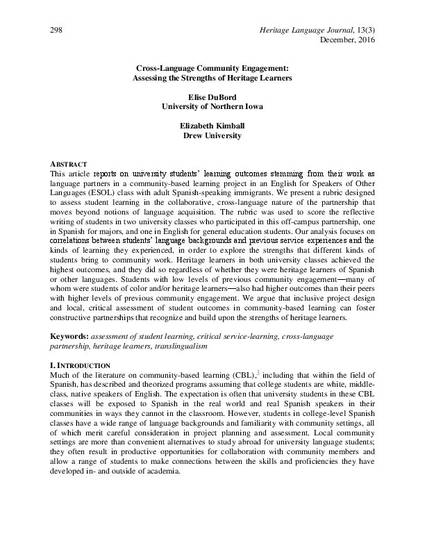 Article
Cross-Language Community Engagement: Assessing the Strengths of Heritage Learners
Heritage Language Journal
Keywords
assessment of student learning,
critical service-learning,
cross-language partnership,
heritage learners,
translingualism
Abstract
This article reports on university students' learning outcomes stemming from their work as language partners in a community-based learning project in an English for Speakers of Other Languages (ESOL) class with adult Spanish-speaking immigrants. We present a rubric designed to assess student learning in the collaborative, cross-language nature of the partnership that moves beyond notions of language acquisition. The rubric was used to score the reflective writing of students in two university classes who participated in this off-campus partnership, one in Spanish for majors, and one in English for general education students. Our analysis focuses on correlations between students' language backgrounds and previous service experiences and the kinds of learning they experienced, in order to explore the strengths that different kinds of students bring to community work. Heritage learners in both university classes achieved the highest outcomes, and they did so regardless of whether they were heritage learners of Spanish or other languages. Students with low levels of previous community engagement—many of whom were students of color and/or heritage learners—also had higher outcomes than their peers with higher levels of previous community engagement. We argue that inclusive project design and local, critical assessment of student outcomes in community-based learning can foster constructive partnerships that recognize and build upon the strengths of heritage learners.
Department
Department of Languages and Literatures
Original Publication Date
12-1-2016
Repository
UNI ScholarWorks, University of Northern Iowa, Rod Library
Copyright
©2016 Elise DuBord and Elizabeth Kimball
File Format
application/pdf
Citation Information
Elise DuBord and Elizabeth Kimball. "Cross-Language Community Engagement: Assessing the Strengths of Heritage Learners"
Heritage Language Journal
Vol. 13 Iss. 3 (2016) p. 298 - 330
Available at: http://0-works.bepress.com.library.simmons.edu/elise-dubord/2/