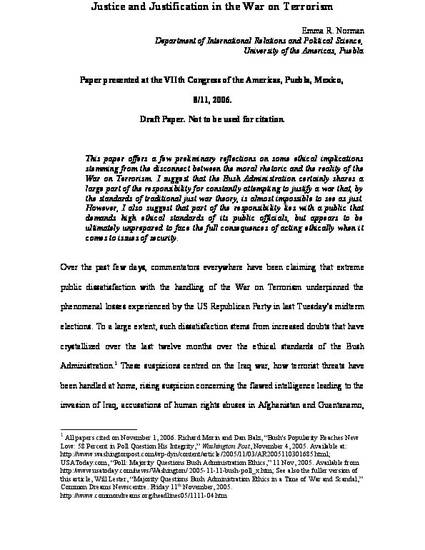 Presentation
Justice and Justification in the War on Terrorism
The VIIth Congress of the Americas (2006)
Abstract
This paper offers a few preliminary reflections on some ethical implications stemming from the disconnect between the moral rhetoric and the reality of the War on Terrorism. I suggest that the Bush Administration certainly shares a large part of the responsibility for constantly attempting to justify a war that, by the standards of traditional just war theory, is almost impossible to see as just. However, I also suggest that part of the responsibility lies with a public that demands high ethical standards of its public officials, but appears to be ultimately unprepared to face the full consequences of acting ethically when it comes to issues of security.
Keywords
just war theory,
GW Bush Administration,
war on terror,
moral rhetoric,
realpolitik
Publication Date
November 8, 2006
Citation Information
Emma R. Norman. "Justice and Justification in the War on Terrorism"
The VIIth Congress of the Americas
(2006)
Available at: http://0-works.bepress.com.library.simmons.edu/emma_norman/4/