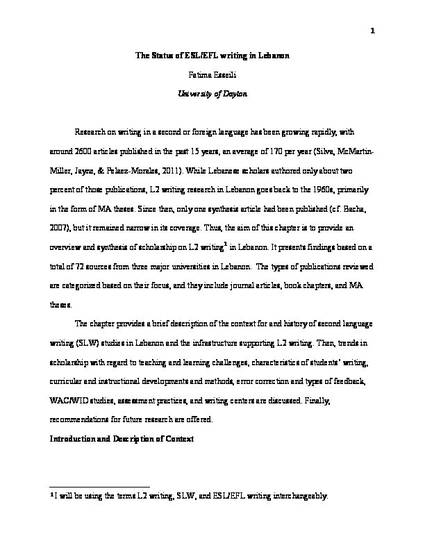 Contribution to Book
The Status of ESL/EFL Writing in Lebanon
Writing in the Global Context: Represented, Underrepresented, and Unrepresented Voices
Document Type
Book Chapter
Publication Date
1-1-2016
Abstract
Research on writing in a second or foreign language has been growing rapidly, with around 2600 articles published in the past 15 years, an average of 170 per year (Silva, McMartin- Miller, Jayne, & Pelaez-Morales, 2011). While Lebanese scholars authored only about two percent of those publications, L2 writing research in Lebanon goes back to the 1960s, primarily in the form of MA theses. Since then, only one synthesis article had been published (cf. Bacha, 2007), but it remained narrow in its coverage. Thus, the aim of this chapter is to provide an overview and synthesis of scholarship on L2 writing1 in Lebanon. It presents findings based on a total of 72 sources from three major universities in Lebanon. The types of publications reviewed are categorized based on their focus, and they include journal articles, book chapters, and MA theses.
The chapter provides a brief description of the context for and history of second language writing (SLW) studies in Lebanon and the infrastructure supporting L2 writing. Then, trends in scholarship with regard to teaching and learning challenges, characteristics of students' writing, curricular and instructional developments and methods, error correction and types of feedback, WAC/WID studies, assessment practices, and writing centers are discussed. Finally, recommendations for future research are offered.
Document Version
Postprint
Publisher
Foreign Language Teaching and Research Press
Place of Publication
Beijing, China
Citation Information
Fatima Esseili. "The Status of ESL/EFL Writing in Lebanon"
Writing in the Global Context: Represented, Underrepresented, and Unrepresented Voices
(2016)
Available at: http://0-works.bepress.com.library.simmons.edu/fatima_esseili/10/