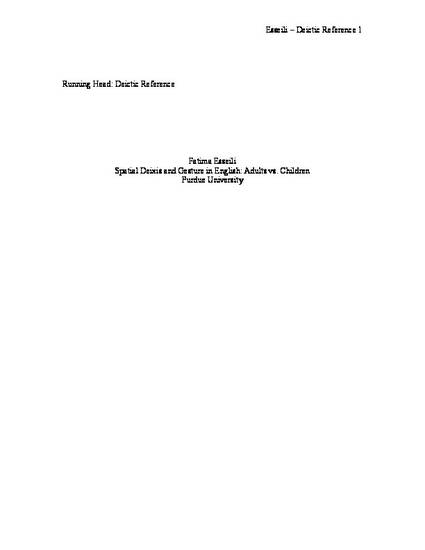 Article
Working Paper: Spatial Deixis and Gesture in English: Adults vs. Children
The Purdue Linguistic Association Working Papers
Publication Date
1-1-2008
Abstract
This study explored first language acquisition of spatial deictic referencing, this/that, in English. Specifically, this study attempted to understand people's ability to internalize and to refer to props in a certain communicative situation. Deictic referencing is reconceptualized into real world terms according to hard science linguistics (HSL) that was established by Yngve (1996). In this study, children were compared to adults in order to test age as a significant variable in the articulation of [ðΙs] and [ðæt]. This was investigated through an experiment that involved 148 subjects (62 adult and 86 child, ages 5 to 58) where verbal and nonverbal behavior was recorded. Subjects were prompted to use this and that in referring to three sets of objects. Findings revealed that native speakers of English do not use this and that according to the definitions provided by dictionaries and grammar rules. In addition, touching seemed to be the most preferred non verbal gesture for children whereas pointing was the preferred one for adults. The results also showed that age plays a significant role in the articulation of [ðΙs] and [ðæt].
Document Version
Postprint
Copyright
Copyright © 2008, Fatima Esseili
Citation Information
Fatima Esseili. "Working Paper: Spatial Deixis and Gesture in English: Adults vs. Children"
The Purdue Linguistic Association Working Papers
Vol. 1 Iss. 1 (2008)
Available at: http://0-works.bepress.com.library.simmons.edu/fatima_esseili/11/