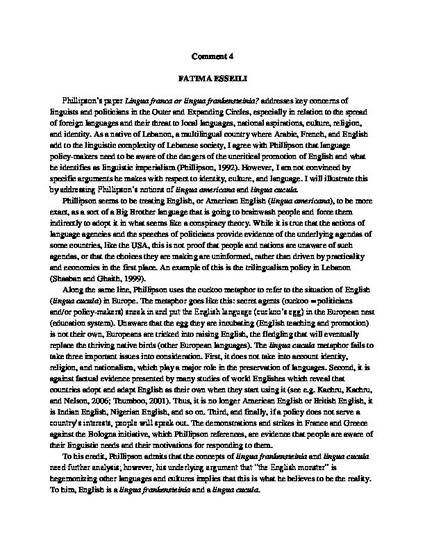 Contribution to Book
Comment 4 on 'Lingua Franca or Lingua Frankensteinia? English in European Integration and Globalization'
Linguistic Imperialism Continued
Document Type
Response or Comment
Publication Date
1-1-2010
Abstract
Phillipson's paper Lingua franca or lingua frankensteinia? addresses key concerns of linguists and politicians in the Outer and Expanding Circles, especially in relation to the spread of foreign languages and their threat to local languages, national aspirations, culture, religion, and identity. As a native of Lebanon, a multilingual country where Arabic, French, and English add to the linguistic complexity of Lebanese society, I agree with Phillipson that language policy-makers need to be aware of the dangers of the uncritical promotion of English and what he identifies as linguistic imperialism (Phillipson, 1992). However, I am not convinced by specific arguments he makes with respect to identity, culture, and language. I will illustrate this by addressing Phillipson's notions of lingua americana and lingua cucula.
Document Version
Postprint
Place of Publication
New York, NY
Citation Information
Fatima Esseili. "Comment 4 on 'Lingua Franca or Lingua Frankensteinia? English in European Integration and Globalization'"
Linguistic Imperialism Continued
(2010)
Available at: http://0-works.bepress.com.library.simmons.edu/fatima_esseili/13/