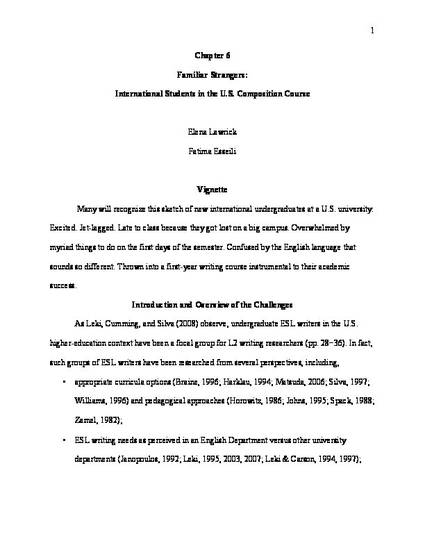 Contribution to Book
Familiar Strangers: International Students in the U.S. Composition Course
ESL Readers and Writers in Higher Education: Understanding Challenges, Providing Support
Document Type
Book Chapter
Publication Date
1-1-2015
Abstract
Many will recognize this sketch of new international undergraduates at a U.S. university: Excited. Jet-lagged. Late to class because they got lost on a big campus. Overwhelmed by myriad things to do on the first days of the semester. Confused by the English language that sounds so different. Thrown into a first-year writing course instrumental to their academic success.
Document Version
Postprint
Place of Publication
New York, NY
Citation Information
Elena Lawrick and Fatima Esseili. "Familiar Strangers: International Students in the U.S. Composition Course"
ESL Readers and Writers in Higher Education: Understanding Challenges, Providing Support
(2015)
Available at: http://0-works.bepress.com.library.simmons.edu/fatima_esseili/8/