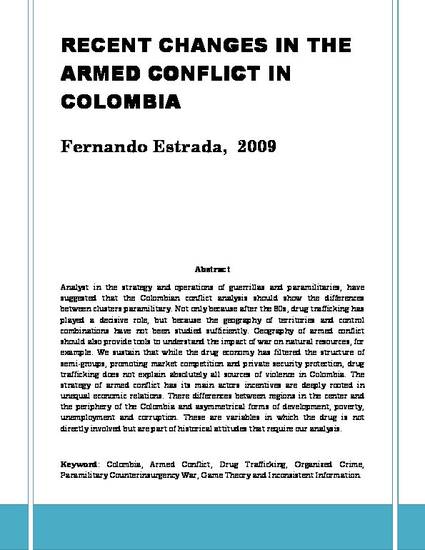 Unpublished Paper
Recent Changes in the Armed Conflict in Colombia
Working Paper CIVIL WARS (2010)
Abstract
Analyst in the strategy and operations of guerrillas and paramilitaries, have suggested that the Colombian conflict analysis should show the differences between clusters paramilitary. Not only because after the 80s, drug trafficking has played a decisive role, but because the geography of territories and control combinations have not been studied sufficiently. Geography of armed conflict should also provide tools to understand the impact of war on natural resources, for example. We sustain that while the drug economy has filtered the structure of semi-groups, promoting market competition and private security protection, drug trafficking does not explain absolutely all sources of violence in Colombia. The strategy of armed conflict has its main actors incentives are deeply rooted in unequal economic relations. There differences between regions in the center and the periphery of the Colombia and asymmetrical forms of development, poverty, unemployment and corruption. These are variables in which the drug is not directly involved but are part of historical attitudes that require our analysis.
Keywords
Colombia,
Armed Conflict,
Drug Trafficking,
Organized Crime,
Paramilitary Counterinsurgency War,
Game Theory and Inconsistent Information
Citation Information
Fernando Estrada. "Recent Changes in the Armed Conflict in Colombia"
Working Paper CIVIL WARS
(2010)
Available at: http://0-works.bepress.com.library.simmons.edu/fernando_estrada/13/