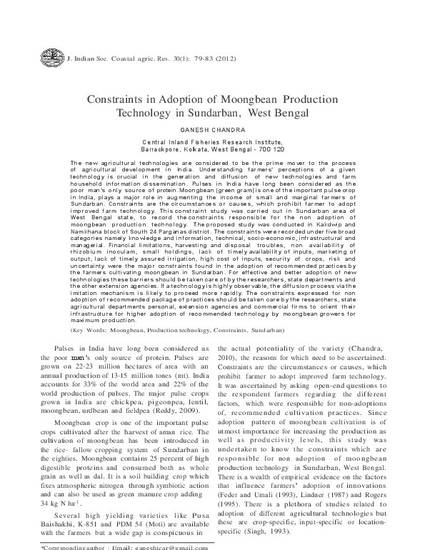 Article
Constraints in Adoption of Moongbean Production Technology in Sundarban, West Bengal
Journal of Indian Society of Coastal Agricultural Research (2012)
Abstract
The new agricultural technologies are considered to be the prime mover to the process of agricultural development in India. Understanding farmers' perceptions of a given technology is crucial in the generation and diffusion of new technologies and farm household information dissemination. Pulses in India have long been considered as the poor man's only source of protein. Moongbean (green gram) is one of the important pulse crop in India, plays a major role in augmenting the income of small and marginal farmers of Sundarban. Constraints are the circumstances or causes, which prohibit farmer to adopt improved farm technology. This constraint study was carried out in Sundarban area of West Bengal state, to record the constraints responsible for the non adoption of moongbean production technology. The proposed study was conducted in Kakdwip and Namkhana block of South 24 Parganas district. The constraints were recorded under five broad categories namely knowledge and information, technical, socio-economic, infrastructural and managerial. Financial limitations, harvesting and disposal troubles, non availability of rhizobium inoculam, small holdings, lack of timely availability of inputs, marketing of output, lack of timely assured irrigation, high cost of inputs, security of crops, risk and uncertainty were the major constraints found in the adoption of recommended practices by the farmers cultivating moongbean in Sundarban. For effective and better adoption of new technologies these barriers should be taken care of by the researchers, state departments and the other extension agencies. If a technology is highly observable, the diffusion process via the imitation mechanism is likely to proceed more rapidly. The constraints expressed for non adoption of recommended package of practices should be taken care by the researchers, state agricultural departments personal, extension agencies and commercial firms to orient their infrastructure for higher adoption of recommended technology by moongbean growers for maximum production.
Keywords
Moongbean,
Production technology,
Constraints,
Sundarban
Publication Date
December, 2012
Citation Information
Ganesh Chandra. "Constraints in Adoption of Moongbean Production Technology in Sundarban, West Bengal"
Journal of Indian Society of Coastal Agricultural Research
Vol. 30 Iss. 1 (2012)
Available at: http://0-works.bepress.com.library.simmons.edu/ganesh_chandra/46/