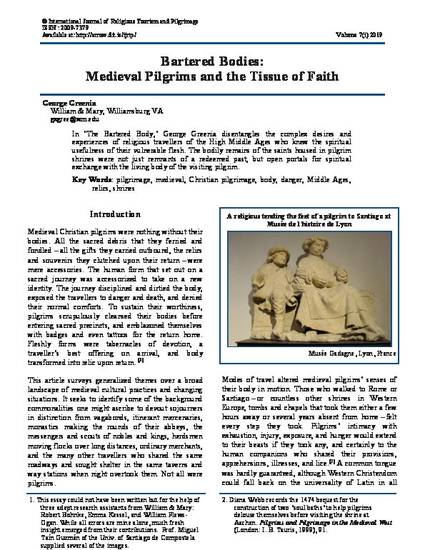 Article
Bartered Bodies: Medieval Pilgrims and the Tissue of Faith
International Journal of Religious Tourism and Pilgrimage
Abstract
In 'The Bartered Body,' George Greenia disentangles the complex desires and experiences of religious travellers of the High Middle Ages who knew the spiritual usefulness of their vulnerable flesh. The bodily remains of the saints housed in pilgrim shrines were not just remnants of a redeemed past, but open portals for spiritual exchange with the living body of the visiting pilgrim.
Citation Information
George D Greenia. "Bartered Bodies: Medieval Pilgrims and the Tissue of Faith"
Available at: http://0-works.bepress.com.library.simmons.edu/george-greenia/28/