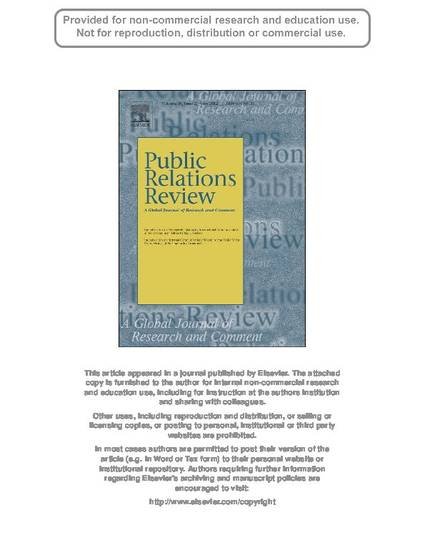 Article
Winning the story war: Strategic communication and the conflict in Afghanistan
Public Relations Review (2012)
Abstract
In conflicts of the information age success in the application of force depends less on the outcome of tactical operations on the battlefields but more on how the war's purpose, course and conduct is viewed by public opinion at home as well as within the theatre of operations. Therefore western allies in Iraq and Afghanistan are not only involved in a physical struggle but also in a struggle over perceptions, for no long-term engagement of troops is possible without support from home, nor can a counterinsurgency succeed without the support of the local population. While the ability to exert influence upon various relevant target groups - opponents, the local population and the home front - has always been crucially important during conflicts, with the more recent globalized media this has led to previously unknown potential opportunities to influence audiences. With the intermixing of target audiences and the successes achieved by terrorists in the field of communication, the importance of the ideological struggle has increased enormously. In this context the concept of strategic communication has become relevant, which refers to the consistency of strategy, activities, themes and messages, and the aim of obtaining legitimacy and support. The heart of a strategic communication strategy is formed by a strategic narrative, a compelling storyline which can explain events convincingly and from which inferences can be drawn. Through a case study about the effectiveness of the execution of strategic communication during the mission in Afghanistan, the author wishes to increase the understanding of the concept.
Keywords
Afghanistan,
ISAF,
NATO,
Strategic Communication,
Strategic Narratives,
Counterinsurgency,
Public Opinion,
Public Diplomacy,
Public Affairs,
Information Operations
Publication Date
Summer June 1, 2012
Citation Information
George Dimitriu. "Winning the story war: Strategic communication and the conflict in Afghanistan"
Public Relations Review
Vol. 38 Iss. 2 (2012)
Available at: http://0-works.bepress.com.library.simmons.edu/george_dimitriu/3/