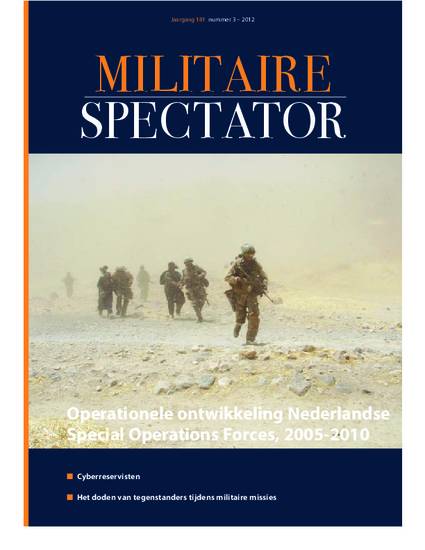 Article
Operationele ontwikkeling van de Nederlandse Special Operations Forces, 2005-2010
Militaire Spectator (2012)
Abstract
Between 2005 and 2010 Dutch Special Operations Forces (SOF) carried out three mission in Afghanistan. The authors describe these missions in which both Army SOF and Marine SOF took part. They describe SOF and analyze the planning and execution of SOF missions. Further, they discuss the insights and developments that resulted from these experiences. By doing this, they not only clarify but also explain recent developments in the Dutch SOF realm. The lessons learned and best practices identified are a sound foundation for the future of Dutch SOF. (article in Dutch).
Keywords
SOF,
Special Operations Forces,
SF,
Special Forces,
KCT,
Commando,
SOTG,
OEF,
ISAF,
Enduring Freedom,
NATO,
NAVO,
Nederland,
Uruzgan,
Afghanistan,
COIN,
Counterinsurgency,
Direct Action,
Terrorism,
Insurgency,
TF-55,
TF Viper
Publication Date
Spring March 23, 2012
Citation Information
George Dimitriu, Gijs Tuinman and Martijn van der Vorm. "Operationele ontwikkeling van de Nederlandse Special Operations Forces, 2005-2010"
Militaire Spectator
Vol. 181 Iss. 3 (2012)
Available at: http://0-works.bepress.com.library.simmons.edu/george_dimitriu/7/