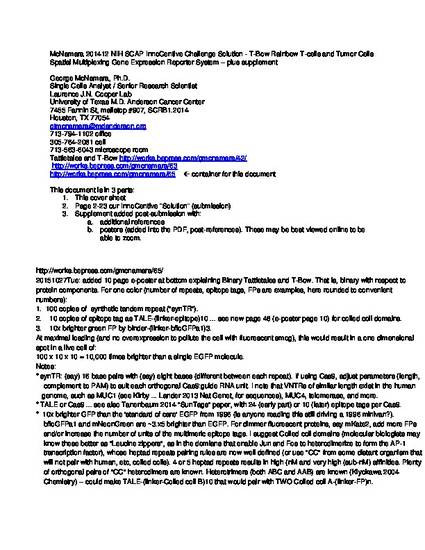 Other
McNamara 201412 NIH SCAP InnoCentive Challenge Solution - T-Bow Rainbow T-cells and Tumor Cells Spatial Multiplexing Gene Expression Reporter System – plus supplement plus posters - 20151027 - please download "75" instead
(2015)
Abstract
McNamara 201412 NIH SCAP InnoCentive Challenge Solution - T-Bow Rainbow T-cells and Tumor Cells Spatial Multiplexing Gene Expression Reporter System – plus supplement plus posters - 20151027.
///
Please download the current 20151027 (October 27, 2015) Tattletales and T-Bow update from
http://0-works.bepress.com.library.simmons.edu/gmcnamara/75/
The bepress web site is not letting me replace the old pdf here at "65" with the additional 10 pages update.
///
The download is my/Cooper lab solution (submission) to the 2014 NIH Single Cell Analysis Program (SCAP) InnoCentive Challenge, "Follow That Cell". I submitted the Solution on 20141215Mon (with 20 minutes to spare). The Challenge web page is
https://www.innocentive.com/ar/challenge/9933618
Our Solution is to revolutionize live cell transcriptional reporter assays. Specifically, we propose to multiplex five promoter response elements to drive expression of different color fluorescent proteins that would bind to cognate TALE-multimeric epitope tags. This is a specific configuration of what we call "Binary Tattletales", which I posted online at my linkedin page in November 2013,
https://www.linkedin.com/in/georgemcnamara
See Tanenbaum et al 2014 Cell,
http://www.ncbi.nlm.nih.gov/pubmed/25307933
for a Cas9-GFP equivalent. Tanenbaum showed that "tag24" or "tag10" could work They used EGFP, which is less than 1/3rd the brightness of 'state of the art' FPs -- see
http://0-works.bepress.com.library.simmons.edu/gmcnamara/63/
for more on this.
Note: the 20151027 update is 48 pages (may be 49 pages if this web site adds a cover page).
Keywords
Binary tattletales,
T-Bow,
Rainbow T-cells and Tumor cells,
Rainbow multiplex transcriptional reporters; kick button on Dual glow luciferase assays
Publication Date
Fall October 27, 2015
Citation Information
George McNamara. "McNamara 201412 NIH SCAP InnoCentive Challenge Solution - T-Bow Rainbow T-cells and Tumor Cells Spatial Multiplexing Gene Expression Reporter System – plus supplement plus posters - 20151027 - please download "75" instead" (2015)
Available at: http://0-works.bepress.com.library.simmons.edu/gmcnamara/65/