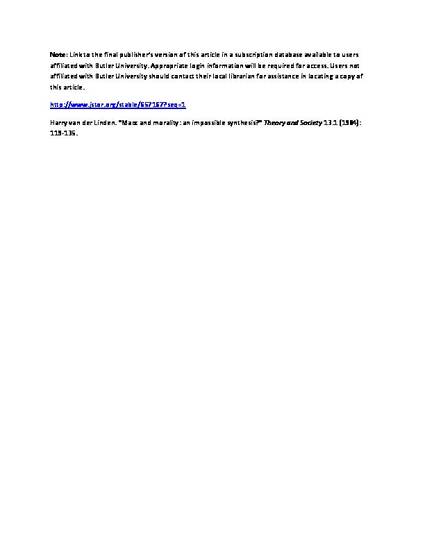 Article
Marx and morality: an impossible synthesis?
Theory and Society
Publication Date
1-1-1984
DOI
http://0-dx.doi.org.library.simmons.edu/10.1007/BF00159259
Abstract
A discussion of Allen E. Buchanan, Marx and Justice (Totowa: Rowman and Littlefield, 1982); Marshall Cohen, Thomas Nagel, and Thomas Scanlon, eds., Marx. Justice. and History (Princeton: Princeton University Press, 1980); and Kai Nielsen and Steven C. Patten, eds., Marx and Morality, Supplementary Volume VII of the Canadian Journal of Philosophy (Guelph: Canadian Association for Publishing in Philosophy, 1981).
Citation Information
van der Linden, Harry. "Marx and morality: An impossible synthesis?"
Theory and Society
, 13. 1 (1984): 119--135. doi: 10.1007/BF00159259. Available from: http://digitalcommons.butler.edu/facsch_papers/132/