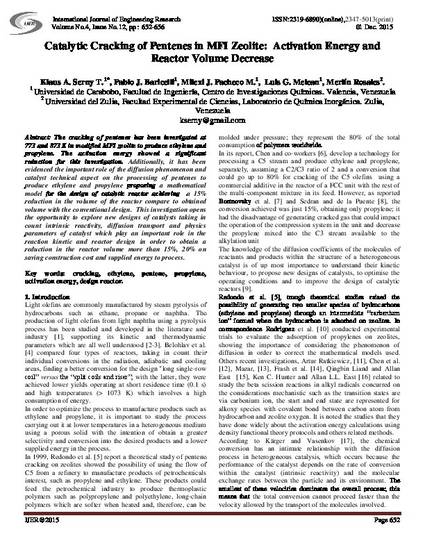 Article
Catalytic Cracking of Pentenes in MFI Zeolite: Activation Energy and Reactor Volume Decrease
International Journal of Engineering Research (2015)
Abstract
The cracking of pentenes has been investigated at 773 and 873 K in modified MFI zeolite to produce ethylene and propylene. The activation energy showed a significant reduction for this investigation. Additionally, it has been evidenced the important role of the diffusion phenomenon and catalyst technical aspect on the processing of pentenes to produce ethylene and propylene proposing a mathematical model for the design of catalytic reactor achieving a 15% reduction in the volume of the reactor compare to obtained volume with the conventional design. This investigation opens the opportunity to explore new designs of catalysts taking in count intrinsic reactivity, diffusion transport and physics parameters of catalyst which play an important role in the reaction kinetic and reactor design in order to obtain a reduction in the reactor volume more than 15%, 20% on saving construction cost and supplied energy to process.
Keywords
Key words: cracking,
ethylene,
pentene,
propylene,
activation energy,
design reactor.
Publication Date
Winter December 1, 2015
Citation Information
Klaus A. Serny T., Pablo J. Baricelli, Milexi J. Pacheco M., Luis G. Melean, et al.. "Catalytic Cracking of Pentenes in MFI Zeolite: Activation Energy and Reactor Volume Decrease"
International Journal of Engineering Research
Vol. 4 Iss. 12 (2015)
Available at: http://0-works.bepress.com.library.simmons.edu/irpindia/439/