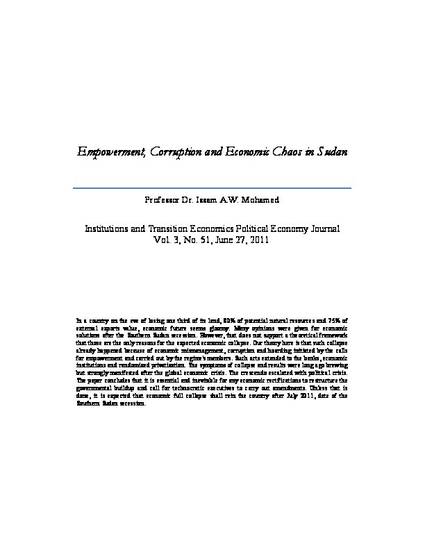 Article
Empowerment, Corruption and Economic Chaos in Sudan
Institutions and Transition Economics Political Economy Journal (2011)
Abstract
In a country on the eve of losing one third of its land, 80% of potential natural resources and 75% of external exports value, economic future seems gloomy. Many opinions were given for economic solutions after the Southern Sudan secession. However, that does not support a theoretical framework that those are the only reasons for the expected economic collapse. Our theory here is that such collapse already happened because of economic mismanagement, corruption and hoarding initiated by the calls for empowerment and carried out by the regime's members. Such acts extended to the banks, economic institutions and randomized privatization. The symptoms of collapse and results were long ago brewing but strongly manifested after the global economic crisis. The crescendo escalated with political crisis. The paper concludes that it is essential and inevitable for any economic rectifications to restructure the governmental buildup and call for technocratic executives to carry out amendments. Unless that is done, it is expected that economic full collapse shall rein the country after July 2011, date of the Southern Sudan secession.
Keywords
Sudan,
Institutions,
Macroeconomic Policy,
Economic Performance,
Corruption,
Crisis
Publication Date
Summer June 27, 2011
Citation Information
Professor Issam A.W. Mohamed. "Empowerment, Corruption and Economic Chaos in Sudan"
Institutions and Transition Economics Political Economy Journal
Vol. 3 Iss. 51 (2011)
Available at: http://0-works.bepress.com.library.simmons.edu/issamawmohamed/21/