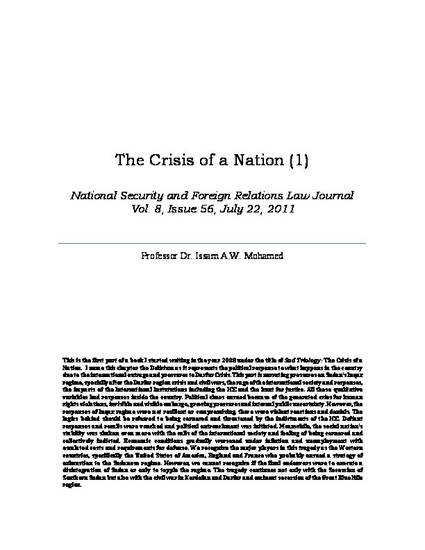 Article
The Crisis of a Nation (1)
National Security and Foreign Relations Law Journal (2011)
Abstract
This is the first part of a book I started writing in the year 2008 under the title of Sad Triology: The Crisis of a Nation. I name this chapter the Delirium as it represents the political response to what happens in the country due to the international outrage and pressures to Darfur Crisis. This part is narrating pressures on Sudan's Inqaz regime, specially after the Darfur region crisis and civil wars, the rage of the international society and responses, the impacts of the International Instututions including the ICC and the hunt for justice. All those qualitative variables had responses inside the country. Political chaos ensued because of the generated cries for human rights violations, invisible and visible embargo, growing pressures and internal public uncertainty. However, the responses of Inqaz regime were not resilient or compromising, there were violent reactions and denials. The logics behind should be referred to being cornered and threatened by the indictments of the ICC. Defiant responses and recalls were vouched and political entrenchment was initiated. Meanwhile, the social nation's stability was shaken even more with the calls of the international society and feeling of being cornered and collectively indicted. Economic conditions gradually worsened under inflation and unemployment with escalated costs and requirements for defense. We recognize the major players in this tragedy as the Western countries, specifically the United States of America, England and France who probably ensued a strategy of exhaustion to the Sudanese regime. However, we cannot recognize if the final endeavors were to execute a disintegration of Sudan or only to topple the regime. The tragedy continues not only with the Secession of Southern Sudan but also with the civil war in Kordofan and Darfur and eminent secession of the Great Blue Nile region.
Keywords
Sudan,
Secession,
ICC,
Civil Conflict,
Disintegration
Publication Date
Summer July 22, 2011
Citation Information
Professor Issam A.W. Mohamed. "The Crisis of a Nation (1)"
National Security and Foreign Relations Law Journal
Vol. 8 Iss. 56 (2011)
Available at: http://0-works.bepress.com.library.simmons.edu/issamawmohamed/23/