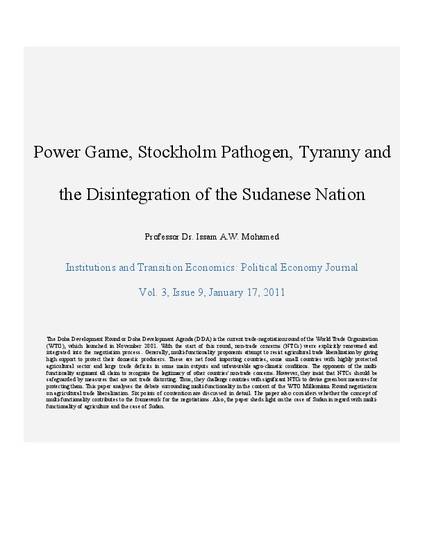 Article
Power Game, Stockholm Pathogen, Tyranny and the Disintegration of the Sudanese Nation
Institutions and Transition Economics: Political Economy Journal (2011)
Abstract
The present paper is part of unpublished book divided into three interrelated manuscripts that analyze the collapse of the Sudan. The current paper suggests that the national salvation coup de etat power-overtaking and the creation of the NCP (National Congress Party) dominated Sudan only a process similar to Pathogenic Stockholm Syndrome. That conforms with what Gramsci suggests as an inevitable methodology to have sustainable hegemony over a whole nation for a prolonged time. Religious dogma was a permeation throughout society of an entire system of values, attitudes, beliefs and morality that have the effect of supporting the status quo in power relations. The succeeding extraction of the nation's economic surplus was only a result of absolute power utility. The paper concludes that was a process for the confiscation of the people's ability to reason. The result is a de facto disintegration of the social fabric and cohesion of the nation. A vacuum of institutional interregnum was generated because of the failed state .
Keywords
Power,
Stockholm Syndrome,
Institutional Interregnum
Publication Date
Winter January 17, 2011
Citation Information
Professor Issam A.W. Mohamed. "Power Game, Stockholm Pathogen, Tyranny and the Disintegration of the Sudanese Nation"
Institutions and Transition Economics: Political Economy Journal
Vol. 3 Iss. 9 (2011)
Available at: http://0-works.bepress.com.library.simmons.edu/issamawmohamed/27/