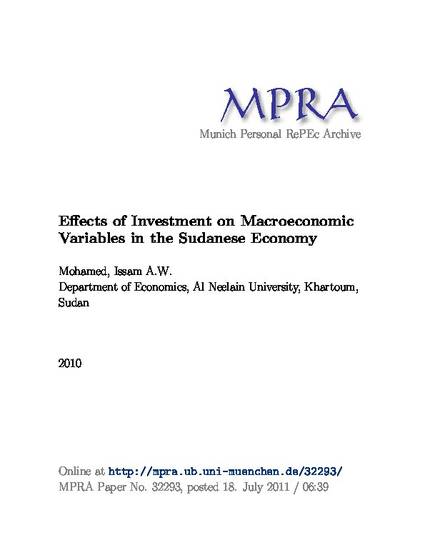 Unpublished Paper
Effects of Investment on Macroeconomic Variables in the Sudanese Economy
Munich University Liberary, Germany (2010)
Abstract
Most developing and underdeveloped countries beside Sudan suffer from the low levels of income in addition to the low savings that are result from the lack of sophisticated savings channels. Hence, the investment depends on the individual's abilities on self savings, where the investment is considered as major motivating vehicle for economic activity due to its direct correlation with the capital accumulation process that increases the productivity capacity for the national economy and creating job opportunities and achieving economic development. Subsequently, the importance of the investment comes from effective role that can be practiced on the national product. The present paper aims at explaining the impact of influential factors on the investment function in the Sudan and then formulating a measuring model for it. It is assumed that there is a causal relationship between investment and influential factors. The results of the empirical analysis show that there is a positive relationship between investment and Gross Domestic Products (GDP). However, there is a negative relationship between inflation rate and finance cost on investment. It is concluded that there is no significant effect from the inflation rate and finance cost while there is existence of other fixed variables on investment. The conclusions are that more data are required for further analyses with other variables with significant effect on investment such as: imports, national income and government expenditure to attain a model that can be used for investment anticipation in the coming years.
Keywords
Sudan Economy,
Macroeconomic Variables,
Performance,
Investment,
Productivity,
Deformaties
Citation Information
Professor Issam A.W. Mohamed. "Effects of Investment on Macroeconomic Variables in the Sudanese Economy"
Munich University Liberary, Germany
(2010)
Available at: http://0-works.bepress.com.library.simmons.edu/issamawmohamed/33/