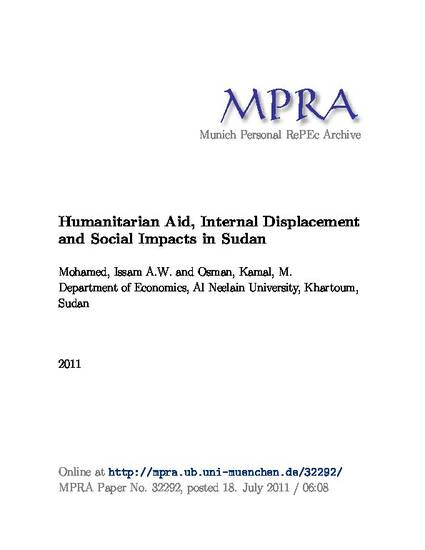 Unpublished Paper
Humanitarian Aid, Internal Displacement and Social Impacts in Sudan
Munich University Liberary, Germany (2011)
Abstract
The study presented here reviews activities of NGOs in Sudan by surveying and studying the activities of Save the Children of United Kingdom. Activities of NGOs in Sudan were always a controversial issue that resulted in the expulsion of many in 2009. There were also precedents of such expulsions in previous and following years. The paper discusses humanitarian work in Sudan, positive and negative sides. The case study's activities of the Save the Children efforts in Jebel Aulia Internally Displaced People, specially their efforts in education were investigated. It is concluded that introduce invaluable help in educational field, building classes and facilities. However, they also face financial restraining because governmental efforts in improving facilities are minimized. With the increasing loads of children vying to join education, lack of books and writing materials, impoverished and destitute parents, they cannot pay the small fees required of them. Many children leave education and search for working opportunities to support their families. It is basically required from the government to step in and provide more funds to education. The results data of the Jebel Aulia camp is not different from hundreds spread all over Sudan. The country is faced with increasing numbers of children diverted from education to juvenile works or becoming social outsiders with all the expected consequences.
Keywords
Sudan,
Internal Displacement,
Human Crisis,
International Aid
Citation Information
Professor Issam A.W. Mohamed. "Humanitarian Aid, Internal Displacement and Social Impacts in Sudan"
Munich University Liberary, Germany
(2011)
Available at: http://0-works.bepress.com.library.simmons.edu/issamawmohamed/35/