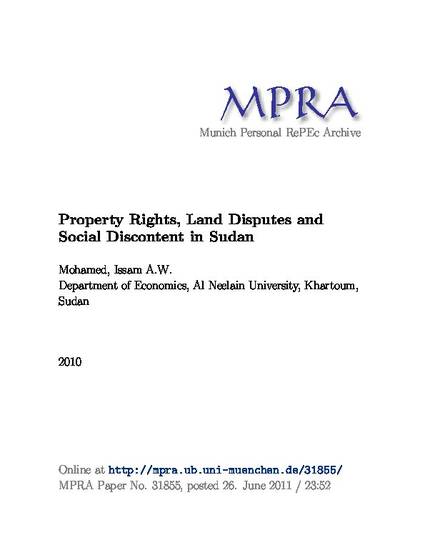 Unpublished Paper
Property Rights, Land Disputes and Social Discontent in Sudan
Munich University Liberary, Germany (2010)
Abstract
Under the present civil Sudanese conditions, the country endures many hardships which are manifested in economic retraction, inflation, recession and stagflation. However, those are not the sole reasons for the sporadic conflicts that infest the people. Illegitimate property and economic hoardings seem to be inflaming the Sudanese societies. Social conflicts are manifested in simple man's daily complaints to open rebellions. Most academicians agree on one point, that the society endures abnormal conditions. The current paper delves into land disputes in the South Kordofan region and displays there anomalies affecting the Sudanese state of affairs. The economic and social structures are affecting the civil society which is drained of the basic available capital and livelihood, land. The study concluded that it is necessary to promote new ways of protecting land rights. If not more civil mutinies will erupt.
Keywords
Sudan,
Institutional Structure,
Deformaties,
Land Disputes,
Civil Conflict
Citation Information
Professor Issam A.W. Mohamed. "Property Rights, Land Disputes and Social Discontent in Sudan"
Munich University Liberary, Germany
(2010)
Available at: http://0-works.bepress.com.library.simmons.edu/issamawmohamed/40/