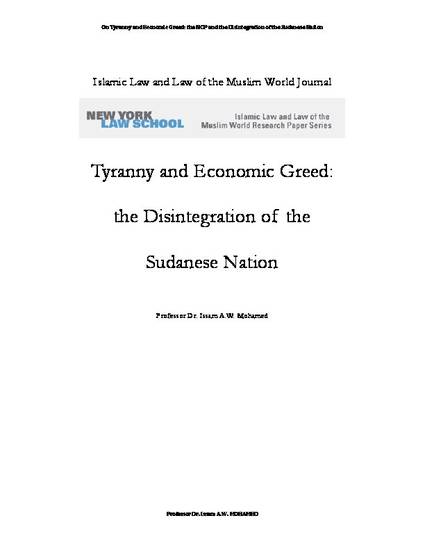 Unpublished Paper
Tyranny and Economic Greed: the Disintegration of the Sudanese Nation
Islamic Law and Law of the Muslim World Journal, New York School of Law (2010)
Abstract
The present paper is part of unpublished book divided into three interrelated manuscripts that analyze the collapse of the Sudan. The current paper conclude that the decision of the International Criminal Court to arrest President Bashir triggered a process for the disintegration of an unprecedented tyrannical regime that embezzled the Sudanese nation under the pretext of imposing Islamic Sharia Laws. However, there is a pronounced prominent conflict manifested here which is the question whether it was a real Islamic laws, or was it only a powerful tool to control the country. The dogma imposed hegemonic regime that extracted all economic surplus, sequestered civil rights and committed genocide in all the country's regions. The result is that the country has been de facto division and disintegration process . Moreover, a vacuum of institutional interregnum was generated because of the failed state.
Keywords
Sudan,
Economic Performance,
Corruption,
Greed,
Demise
Publication Date
Winter January 9, 2010
Citation Information
Professor Issam A.W. Mohamed. "Tyranny and Economic Greed: the Disintegration of the Sudanese Nation"
Islamic Law and Law of the Muslim World Journal, New York School of Law
(2010)
Available at: http://0-works.bepress.com.library.simmons.edu/issamawmohamed/69/