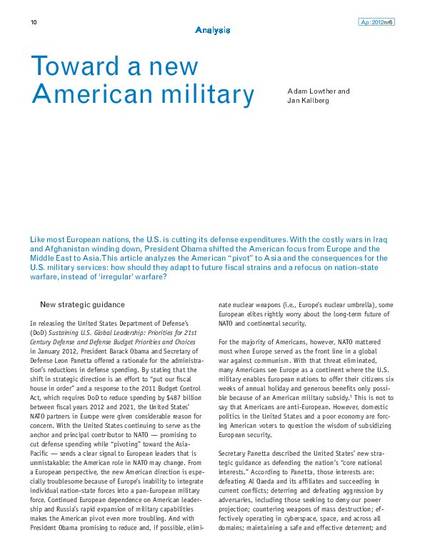 Article
Analysis - Toward a new American military.
Atlantisch Perspectief - Opinieblad over Veiligheidszaken en Internationale Betrekkingen (2012)
Abstract
In releasing the United States Department of Defense's (DoD) Sustaining U.S. Global Leadership: Priorities for 21st Century Defense and Defense Budget Priorities and Choices in January 2012, President Barack Obama and Secretary of Defense Leon Panetta offered a rationale for the administration's reductions in defense spending. By stating that the shift in strategic direction is an effort to "put our fiscal house in order" and a response to the 2011 Budget Control Act, which requires DoD to reduce spending by $487 billion between fiscal years 2012 and 2021, the United States' NATO partners in Europe were given considerable reason for concern. With the United States continuing to serve as the anchor and principal contributor to NATO — promising to cut defense spending while "pivoting" toward the Asia- Pacific — sends a clear signal to European leaders that is unmistakable: the American role in NATO may change. From a European perspective, the new American direction is especially troublesome because of Europe's inability to integrate individual nation-state forces into a pan-European military force. Continued European dependence on American leadership and Russia's rapid expansion of military capabilities makes the American pivot even more troubling. And with President Obama promising to reduce and, if possible, eliminate nuclear weapons (i.e., Europe's nuclear umbrella), some European elites rightly worry about the long-term future of NATO and continental security. For the majority of Americans, however, NATO mattered most when Europe served as the front line in a global war against communism. With that threat eliminated, many Americans see Europe as a continent where the U.S. military enables European nations to offer their citizens six weeks of annual holiday and generous benefits only possible because of an American military subsidy.1 This is not to say that Americans are anti-European. However, domestic politics in the United States and a poor economy are forcing American voters to question the wisdom of subsidizing European security.
Keywords
austerity,
NATO,
new defense posture,
sequestration,
DOD,
defense,
nukes,
nuclear,
deterrence,
Russia,
China,
Europe,
NATO
Publication Date
Fall October 15, 2012
Citation Information
Adam Lowther and Jan Kallberg. "Analysis - Toward a new American military."
Atlantisch Perspectief - Opinieblad over Veiligheidszaken en Internationale Betrekkingen
Vol. 36 Iss. 6 (2012)
Available at: http://0-works.bepress.com.library.simmons.edu/jan_kallberg/7/