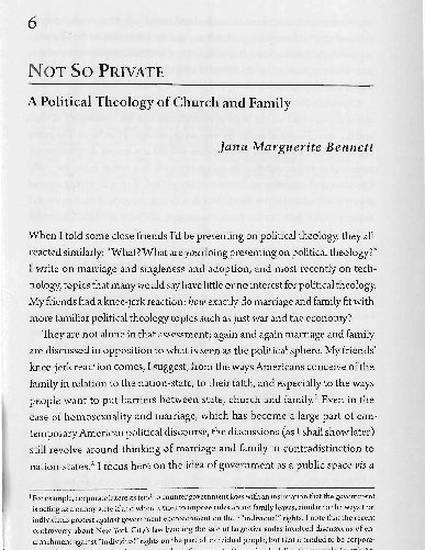 Contribution to Book
Not So Private: A Political Theology of Church and Family
Christian Political Witness
Document Type
Book Chapter
Publication Date
1-1-2014
Abstract
The words used to describe that relationship are public and private, words that frequently appear in both secular and Christian conversations about marriage and family. We name "family" and "church" as private matters, parts of life that are necessarily held distinctly from public matters, as in political life. At the same time, because Christians rightly understand family as a place where people learn discipleship and a place where formation and evangelization happen,3 we care very much about how to think about families in relation to church and state. There is a relationship between these three entities, American Christians insist, and the work that we need to do is to determine exactly how to properly balance that relationship in order to ensure the best possible marriages and the best possible families. Yet what I argue in this chapter is that the current conversation, which tries to delineate how family, state and church are public or private, derails Christian discipleship. This is because Jesus Christ upends the very notions of public and private; the risen Christ causes us to realize that not only do we have no common views of what is public and private, but that the very ideas are reconfigured to the point that the public/private distinction is shattered. First, then, I discuss some of the several ways Americans, especially Christians, make use of the words public and private, showing how this dichotomy is utterly unhelpful for Christians. Then I support my claim by discussing what Jesus' life, as attested by Scripture, shows Christians about family, state, church, public and private. Finally, I suggest that for Christians there can't be "public" and "private" in the ways we have tended to name, that we are called to be the church first, and I conclude with some practical implications of making this claim.
ISBN/ISSN
978-0-8308-4051-9
Document Version
Published Version
Copyright
Taken from
Christian Political Witness,
edited by George Kalantzis and Gregory W. Lee. Copyright © 2014 by George Kalantzis and Gregory W. Lee. Used by permission of InterVarsity Press, P.O. Box 1400, Downers Grove, IL 605151426. www.ivpress.com
Publisher
InterVarsity Press
Place of Publication
Madison, WI
Citation Information
Jana Marguerite Bennett. "Not So Private: A Political Theology of Church and Family"
Christian Political Witness
(2014)
Available at: http://0-works.bepress.com.library.simmons.edu/jana_bennett/9/