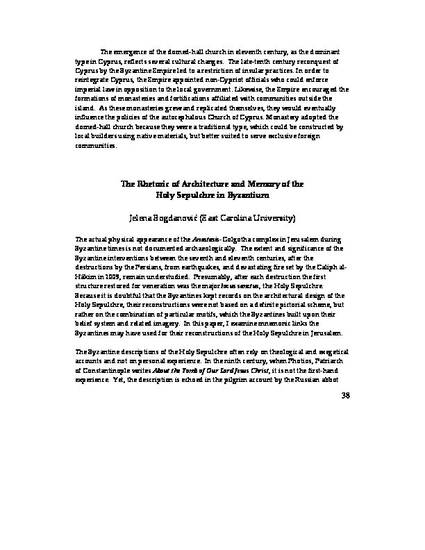 Presentation
The Rhetoric of Architecture and Memory of the Holy Sepulchre in Byzantium
Thirty-sixth Annual Byzantine Studies Conference (2010)
Abstract
The actual physical appearance of the Anastasis‐Golgotha complex in Jerusalem during Byzantine times is not documented archaeologically. The extent and significance of the Byzantine interventions between the seventh and eleventh centuries, after the destructions by the Persians, from earthquakes, and devastating fire set by the Caliph al‐Hākim in 1009, remain understudied. Presumably, after each destruction the first structure restored for veneration was the major locus sanctus, the Holy Sepulchre. Because it is doubtful that the Byzantines kept records on the architectural design of the Holy Sepulchre, their reconstructions were not based on a definite pictorial scheme, but rather on the combination of particular motifs, which the Byzantines built upon their belief system and related imagery. In this paper, I examine mnemonic links the Byzantines may have used for their reconstructions of the Holy Sepulchre in Jerusalem.
Publication Date
October, 2010
Citation Information
Jelena Bogdanović. "The Rhetoric of Architecture and Memory of the Holy Sepulchre in Byzantium"
Thirty-sixth Annual Byzantine Studies Conference
(2010)
Available at: http://0-works.bepress.com.library.simmons.edu/jelena_bogdanovic/9/