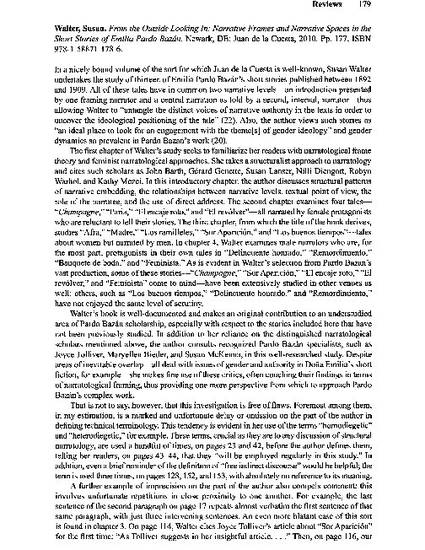 Article
Review of: From the Outside Looking in: Narrative Frames and Narrative Spaces in the Short Stories of Emilia Pardo Bazán
Hispania
Document Type
Book Review
Publication Date
3-1-2012
Abstract
In a nicely bound volume of the sort for which Juan de la Cuesta is well-known, Susan Walter undertakes the study of thirteen of Emilia Pardo Bazan's short stories published between 1892 and 1909. All of these tales have in common two narrative levels - an introduction presented by one framing narrator and a central narration as told by a second, internal, narrator - thus allowing Walter to "untangle the distinct voices of narrative authority in the texts in order to uncover the ideological positioning of the tale" (22). Also, the author views such stories as "an ideal place to look for an engagement with the theme[s] of gender ideology" and gender dynamics so prevalent in Pardo Bazan 's work.
Subjects - Topical (LCSH)
Short stories, Spanish; Women in literature; Marriage in literature
Subjects - Names (LCNAF)
Walter, Susan (Susan Jean). From the outside looking in ; Basan, Ėmilii︠a︡ Pardo, condesa de, 1852-1921--Criticism and interpretation; Basan, Ėmilii︠a︡ Pardo, condesa de, 1852-1921--Characters--Women
Genre/Form
reviews (documents)
Citation Information
Joan M. Hoffman. "Review of: From the Outside Looking in: Narrative Frames and Narrative Spaces in the Short Stories of Emilia Pardo Bazán"
Hispania
Vol. 95 Iss. 1 (2012) p. 179 - 180
Available at: http://0-works.bepress.com.library.simmons.edu/joan_hoffman/4/