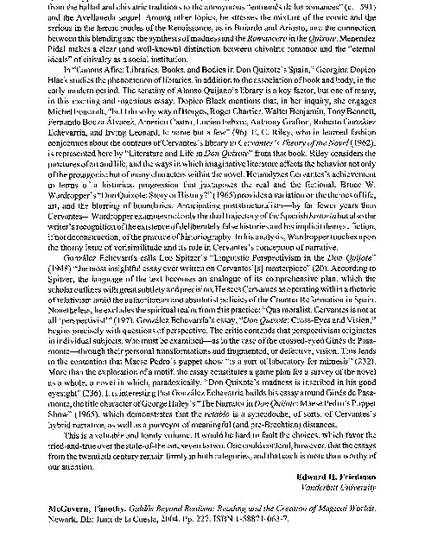 Article
Review of: Galdos Beyond Realism: Reading and the Creation of Magical Worlds
Hispania
Document Type
Book Review
Publication Date
5-1-2006
Abstract
Timothy McGovern's latest offering, Galdós Beyond Realism: Reading and the Creation of Magical Worlds, may prove surprising, if not a bit unsettling, for the die-hard, skeptical fan of Spanish High Realism who can not imagine the words "Galdós" and "magical worlds" in the same sentence. Nonetheless, McGovern presents a fascinating examination of what he terms Don Benito's "magical fictions" (7). He jostles us out of our comfort zone, examining "post-realist, non-realist, or magical" Galdosian works that push the limits of traditional realism through the employment of metafictional and magical frames, supernatural interventions, and a very conscious lack of verisimilitude (29). Understandably, McGovern examines Galdós's lesser studied later production, La incógnita (1888-89); the dialogue novels, Realidad (1889) and Cassandra (1905); the final series of the Episodios nacionales, including Amadeo I (1910), La primera república (1911), De Cartago a Sagunto (1911), and Cánovas (1912); and his final two novels, which break entirely with rationalist writing, El caballero encantado: Cuento real...inverosímil (1909) and La razón de la sinrazón: Fábula teatral absolutamente inverso símil (1915). Interestingly, as well, McGovern finds such experimentation throughout Galdós's production, as early as his first novel, La sombra (1870); in the framed narrative of El amigo Manso (1882); and in Misericordia (1897).
Subjects - Topical (LCSH)
Magic realism (Literature); Realism in literature
Subjects - Names (LCNAF)
McGovern, Timothy Michael, 1965-. Galdós beyond realism; Pérez Galdós, Benito, 1843-1920--Criticism and interpretation
Genre/Form
reviews (documents)
Citation Information
Joan M. Hoffman. "Review of: Galdos Beyond Realism: Reading and the Creation of Magical Worlds"
Hispania
Vol. 89 Iss. 2 (2006) p. 296 - 298
Available at: http://0-works.bepress.com.library.simmons.edu/joan_hoffman/8/