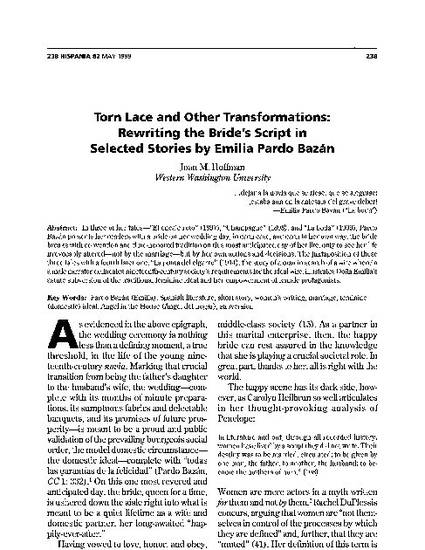 Article
Torn Lace and Other Transformations: Rewriting the Bride's Script in Selected Stories by Emilia Pardo Bazán
Hispania
Publication Date
5-1-1999
Keywords
Pardo Bazán (Emilia),
Spanish literature,
short story,
women's writing,
marriage,
feminine (domestic) ideal,
angel in the house,
subversion
Abstract
In three of her tales—"El encaje roto"( 1897), "Champagne("1898), and "La boda"( 1909), Pardo Bazán presents her readers with a bride on her wedding day; in each case, and each in her own way, the bride breaks with convention and time-honored tradition on this most anticipated day of her life, only to see her life irrevocably altered—not by the marriage—but by her own actions and decisions. The juxtaposition of these three tales with a fourth later one, "La punta del cigarro" (1914), the story of a man in search of a wife wherein a male narrator delineates nineteenth-century society's requirements for the ideal wife, illustrates Doña Emilia's astute subversion of the traditional feminine ideal and her empowerment of female protagonists.
Subjects - Topical (LCSH)
Short stories, Spanish; Spanish fiction--19th century; Women--Spain--Fiction
Subjects - Names (LCNAF)
Pardo Bazán, Emilia, condesa de, 1852-1921--Criticism and interpretation
Geographic Coverage
Spain
Citation Information
Joan M. Hoffman. "Torn Lace and Other Transformations: Rewriting the Bride's Script in Selected Stories by Emilia Pardo Bazán"
Hispania
Vol. 82 Iss. 2 (1999) p. 238 - 245
Available at: http://0-works.bepress.com.library.simmons.edu/joan_hoffman/9/