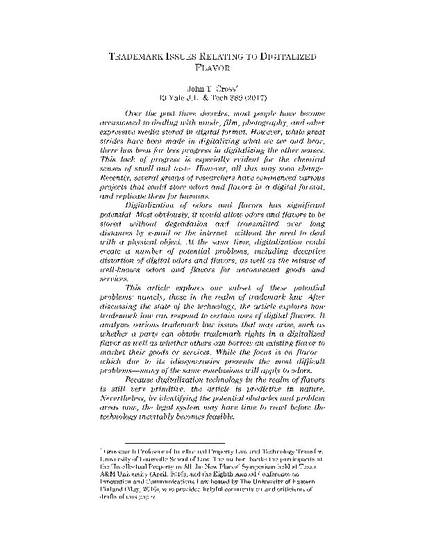 Article
TRADEMARK ISSUES RELATING TO DIGITALIZED FLAVOR
Yale Journal of Law and Technology
Abstract
Over the past three decades, most people have become accustomed to dealing with music, film, photography, and other expressive media stored in digital format. However, while great strides have been made in digitalizing what we see and hear, there has been far less progress in digitalizing the other senses. This lack of progress is especially evident for the chemical senses of smell and taste. However, all this may soon change. Recently, several groups of researchers have commenced various projects that could store odors and flavors in a digital format, and replicate them for humans.
Citation Information
John T. Cross. "TRADEMARK ISSUES RELATING TO DIGITALIZED FLAVOR"
Available at: http://0-works.bepress.com.library.simmons.edu/john-cross/10/