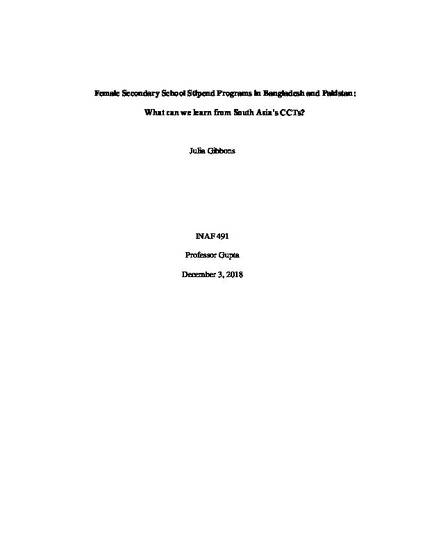 Thesis
Female Secondary School Stipend Programs in Bangladesh and Pakistan: What can we learn from South Asia's CCTs?
(2018)
Abstract
While many developing countries have reported gender gaps in education, Bangladesh has made remarkable progress and terminated the gender gap in secondary school enrollment through its
national Female Stipend Program (FSP) in the 1990s.
Conditional Cash Transfer programs (CCTs) like the FSP have become a popular development policy prescription, but the literature on CCTs in South Asia is surprisingly limited
. A similar program to the FSP, the Female Secondary School Stipend, was implemented in the Punjab province of Pakistan in 2004 and had modest success, increasing secondary school enrollment for girls by 10%.
This paper compares and contrasts the two programs and identifies
four factors- program design, education system differences, political factors, and economic factors- in order to offer possible explanations as to why
the Bangladesh's program was more successful. The paper draws upon what we can learn from Bangladesh's accomplishment, in order to provide insight and recommendations for the Pakistani program and contribute to the gap in the literature in South Asian CCTs. Results are discussed.
Keywords
Bangladesh,
Pakistan,
Development,
Girls' Education,
Secondary School,
Conditional Cash Transfer,
CCT,
World Bank,
Politics,
International Relations
Publication Date
Winter December 14, 2018
Degree
International Affairs
Department
Department of Political Science and International Affairs
Citation Information
Julia Gibbons. "Female Secondary School Stipend Programs in Bangladesh and Pakistan: What can we learn from South Asia's CCTs?" (2018)
Available at: http://0-works.bepress.com.library.simmons.edu/julia-gibbons/1/