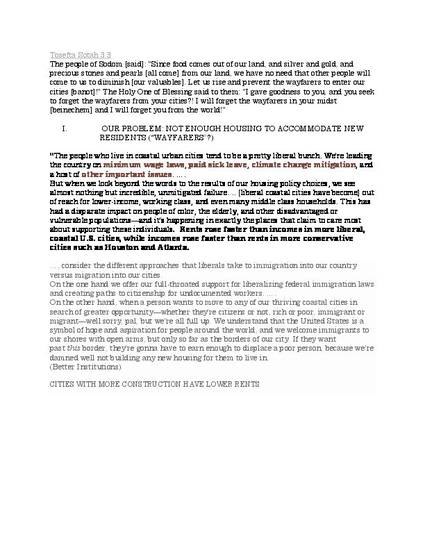 Presentation
Midat Sodom and the Housing Affordability Crisis
Limmud NY (2019)
Abstract
Ancient Jewish texts states that the city of Sodom was overthrown because of its hostility to hospitality. Today, American cities often limit new housing; is this policy analogous to midat Sodom (Hebrew for "the ways of Sodom")? What arguments justify these policies, and what counter-arguments are relevant to those arguments?
Keywords
zoning,
exclusion,
sodom,
midrash,
tosefta,
rent,
affordable housing
Publication Date
February 17, 2019
Citation Information
Michael Lewyn. "Midat Sodom and the Housing Affordability Crisis"
Limmud NY
(2019)
Available at: http://0-works.bepress.com.library.simmons.edu/lewyn/176/