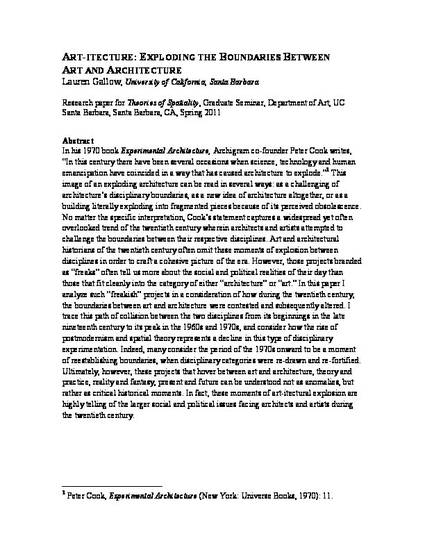 Unpublished Paper
Art-itecture: Exploding the Boundaries Between Art and Architecture
Graduate Seminar Paper (2011)
Abstract
In his 1970 book Experimental Architecture, Archigram co-founder Peter Cook writes, "In this century there have been several occasions when science, technology and human emancipation have coincided in a way that has caused architecture to explode." This image of an exploding architecture can be read in several ways: as a challenging of architecture's disciplinary boundaries, as a new idea of architecture altogether, or as a building literally exploding into fragmented pieces because of its perceived obsolescence. No matter the specific interpretation, Cook's statement captures a widespread yet often overlooked trend of the twentieth century wherein architects and artists attempted to challenge the boundaries between their respective disciplines. Art and architectural historians of the twentieth century often omit these moments of explosion between disciplines in order to craft a cohesive picture of the era. However, those projects branded as "freaks" often tell us more about the social and political realities of their day than those that fit cleanly into the category of either "architecture" or "art." In this paper I analyze such "freakish" projects in a consideration of how during the twentieth century, the boundaries between art and architecture were contested and subsequently altered. I trace this path of collision between the two disciplines from its beginnings in the late nineteenth century to its peak in the 1960s and 1970s, and consider how the rise of postmodernism and spatial theory represents a decline in this type of disciplinary experimentation. Indeed, many consider the period of the 1970s onward to be a moment of reestablishing boundaries, when disciplinary categories were re-drawn and re-fortified. Ultimately, however, these projects that hover between art and architecture, theory and practice, reality and fantasy, present and future can be understood not as anomalies, but rather as critical historical moments. In fact, these moments of art-itectural explosion are highly telling of the larger social and political issues facing architects and artists during the twentieth century.
Citation Information
Lauren L. Gallow. "Art-itecture: Exploding the Boundaries Between Art and Architecture"
Graduate Seminar Paper
(2011)
Available at: http://0-works.bepress.com.library.simmons.edu/lgallow/8/