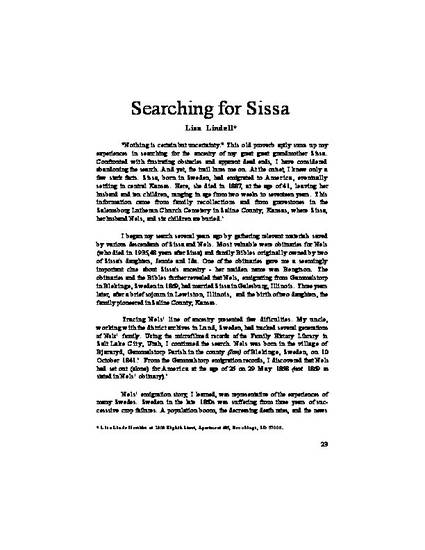 Article
Searching for Sissa
Swedish American Genealogist
Publication Date
3-1-1997
Keywords
Swedish American genealogy,
Swedish emigrants,
Swedish- American biography,
Saline Co. KS
Abstract
"Nothing is certain but uncertainty." This old proverb aptly sums up my experiences in searching for the ancestry of my great great grandmother Sissa. Confronted with frustrating obstacles and apparent dead ends, I have considered abandoning the search. And yet, the trail lures me on. At the outset, I knew only a few stark facts. Sissa, born in Sweden, had emigrated to America, eventually settling in central Kansas. Here, she died in 1887, at the age of 41, leaving her husband and ten children, ranging in age from two weeks to seventeen years. This information came from family recollections and from gravestones in the Salemsborg Lutheran Church Cemetery in Saline County, Kansas, where Sissa, her husband Nels, and six children are buried.1 I began my search several years ago by gathering relevant materials saved by various descendants of Sissa and Nels. Most valuable were obituaries for Nels (who died in 1935,48 years after Sissa) and family Bibles originally owned by two of Sissa's daughters, Jennie and Ida. One of the obituaries gave me a seemingly important clue about Sissa's ancestry - her maiden name was Bengtson. The obituaries and the Bibles further revealed that Nels, emigrating from Gammalstorp in Blekinge, Sweden in 1869, had married Sissa in Galesburg, Illinois. Three years later, after a brief sojourn in Lewiston, Illinois, and the birth of two daughters, the family pioneered in Saline County, Kansas.
Publisher
Swenson Swedish Immigration Research Center
Rights
Copyright © the Swenson Swedish Immigration Research Center
Citation Information
Lisa Lindell. "Searching for Sissa"
Swedish American Genealogist
Vol. 17 Iss. 1 (1997) p. 23
Available at: http://0-works.bepress.com.library.simmons.edu/lisa-lindell/10/