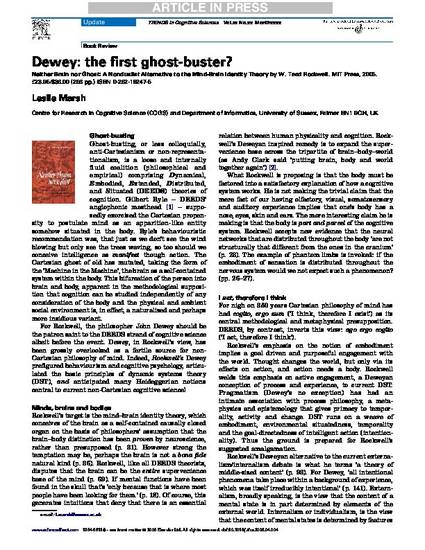 Article
Dewey: the first ghost-buster?
Trends in Cognitive Science (2006)
Abstract
Ghost-busting, or less colloquially, anti-Cartesianism or non-representationalism, is a loose and internally fluid coalition (philosophical and empirical) comprising Dynamical, Embodied, Extended, Distributed, and Situated (DEEDS) theories of cognition. Gilbert Ryle – DEEDS' anglophonic masthead [1] – supposedly exorcised the Cartesian propensity to postulate mind as an apparition-like entity somehow situated in the body. Ryle's behaviouristic recommendation was, that just as we don't see the wind blowing but only see the trees waving, so too should we conceive intelligence as manifest though action. The Cartesian ghost of old has mutated, taking the form of the 'Machine in the Machine', the brain as a self-contained system within the body. This bifurcation of the person into brain and body, apparent in the methodological supposition that cognition can be studied independently of any consideration of the body and the physical and ambient social environment is, in effect, a naturalized and perhaps more insidious variant.
Citation Information
Leslie Marsh. "Dewey: the first ghost-buster?"
Trends in Cognitive Science
Vol. 10 Iss. 6 (2006)
Available at: http://0-works.bepress.com.library.simmons.edu/manwithoutqualities/5/