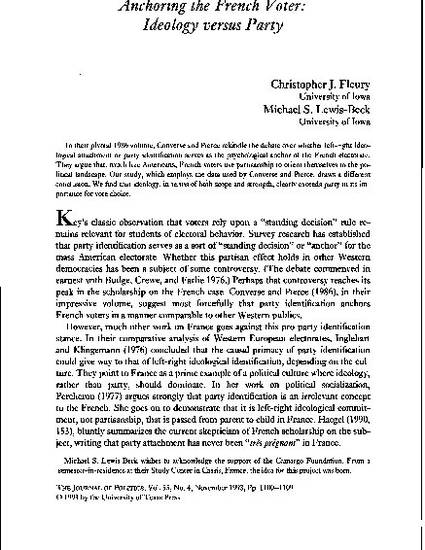 Article
Anchoring the French Voter: Ideology Versus Party
The Journal of Politics
Publication Date
11-1-1993
DOI of Published Version
10.2307/2131950
Abstract
In their pivotal 1986 volume, Converse and Pierce rekindle the debate over whether left-right ideological attachment or party identification serves as the psychological anchor of the French electorate. They argue that, much like Americans, French voters use partisanship to orient themselves to the political landscape. Our study, which employs the data used by Converse and Pierce, draws a different conclusion. We find that ideology, in terms of both scope and strength, clearly exceeds party in its importance for vote choice.
Journal Article Version
Version of Record
Rights
Copyright © 1993 Southern Political Science Association. Used by permission. http://0-journals.cambridge.org.library.simmons.edu/action/displayJournal?jid=JOP
Citation Information
Christopher J. Fleury and Michael S. Lewis-Beck. "Anchoring the French Voter: Ideology Versus Party"
The Journal of Politics
Vol. 55 Iss. 4 (1993) p. 1100 - 1109 ISSN: 0022-3816
Available at: http://0-works.bepress.com.library.simmons.edu/michael_lewis_beck/161/