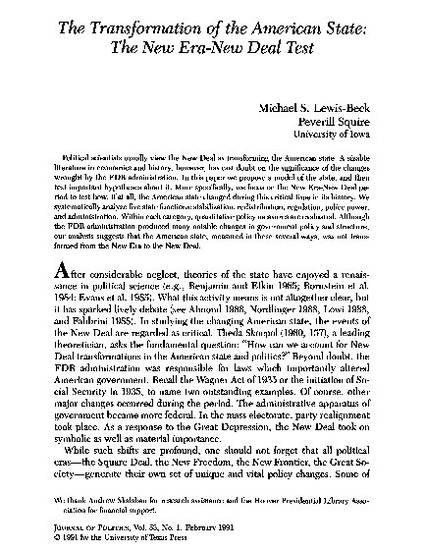 Article
The Transformation of the American State: the New Era-New Deal Test
The Journal of Politics
Publication Date
2-1-1991
DOI of Published Version
10.2307/2131723
Abstract
Political scientists usually view the New Deal as transforming the American state. A sizable literature in economics and history, however, has cast doubt on the significance of the changes wrought by the FDR administration. In this paper we propose a model of the state, and then test important hypotheses about it. More specifically, we focus on the New Era-New Deal period to test how, if at all, the American state changed during this critical time in its history. We systematically analyze five state functions: stabilization, redistribution, regulation, police power, and administration. Within each category, quantitative policy measures are evaluated. Although the FDR administration produced many notable changes in government policy and structure, our analysis suggests that the American state, measured in these several ways, was not transformed from the New Era to the New Deal.
Journal Article Version
Version of Record
Rights
Copyright © 1991 Southern Political Science Association. Used by permission. http://0-journals.cambridge.org.library.simmons.edu/action/displayJournal?jid=JOP
Citation Information
Michael S. Lewis-Beck and Peverill Squire. "The Transformation of the American State: the New Era-New Deal Test"
The Journal of Politics
Vol. 53 Iss. 1 (1991) p. 106 - 121 ISSN: 0022-3816
Available at: http://0-works.bepress.com.library.simmons.edu/michael_lewis_beck/163/